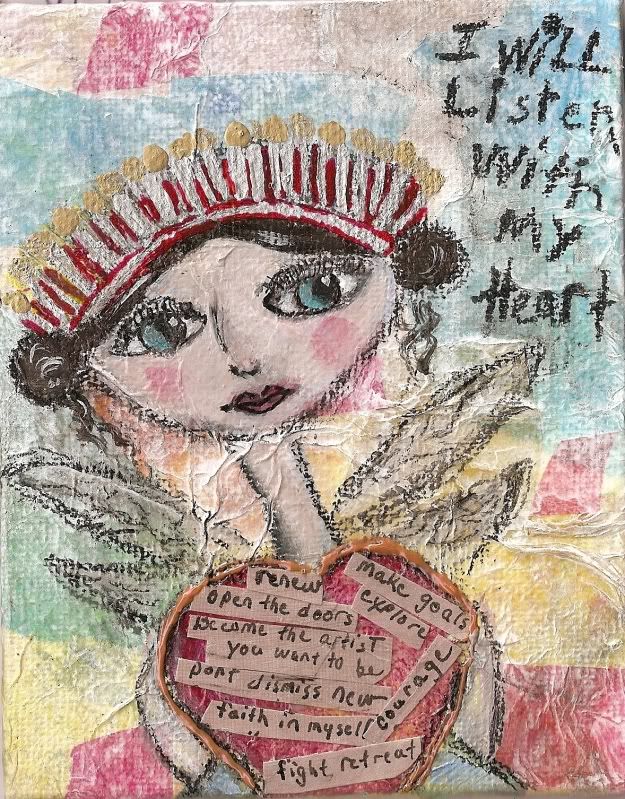 I managed to finish week one of Kelly Rae Roberts ecourse, "Flying Lessons." I've spent some very precious time in silence allowing ideas, random thoughts, dreams, and even visions pass through my consciousness. I took the course because even though I did not realize it at the time, I allowed myself to listen to those little whispers that pervade our heart on a regular basis. You know the ones that nudge you forward and keep nudging you until you finally realize that its time to act on them. And that is precisely what Kelly talked about early on, listening to those whispers, acknowledging your fears and then get a game plan in gear. So I promised myself that I would listen with my heart from now on because that is where my whispers originate.
As I thought about those nudges that have moved me over the years, the list was larger than I realized. I listened when my heart told me that I had done everything I could in my scientific career and now it was time to take care of my 6 year old and 4 year old twins. I left Abbott to do just that. It was really scary because our income dropped to half of what it was. I had a 6 year old with a learning disability and 4 year old twins that were not yet potty trained. I left anyway and have not looked back. I listened when my heart told me that I needed to explore my creative side. I became a demonstrator for

Stampin

Up and sold product and demoed rubber stamp techniques for about 6 years until I felt that nudge again. The time I spent away from home was draining myself and my family. It was too much. So I put away the inks. Something was still missing and my heart told me to continue to pursue my creative side. Out came the canvas, matte board and other substrates. Sweet bliss...I was happiest in my little studio doing my mixed media and collage. The nudges continued and I started to get my art "out there." Through Found Art Tuesday, I left pieces of art around northern Illinois and in Chicago and soon my first gallery show happened. More nudges had me entering

juried

competitions where I was accepted to some and not others. More nudges, more shows, small sales but sales none the less, a new blog,

facebook

and twitter accounts, teaching mixed media and collage art at the Studio, taking

ecourses

.... And then Kelly's course opportunity came along. I still had not considered art as a serious job, but that little whisper told me to take the course...

TAKE THE COURSE.

And so here I am, learning so much and realizing that I am the only one standing in the way of my success (as defined by me of course). What is next...well I need to acknowledge some more of my fears and begin to list practical goals. I've already determined that I don't want a full time career. I don't want to work as hard as Kelly has these past three years. I still have teens and gosh darn, I worked my tail off at Abbott, always feeling I had to prove myself even after the prestigious Scientist of the Year award, but as an artist, I would still like to feel like I have made it. What that "it" is, I still need to define but I do know what the "it" is not.
As you can see, my blog has a new feel and that is one of the goal areas I want to tackle first. The Internet has more potential than I probably will ever realize. Stay tuned...I will be working on it!
k