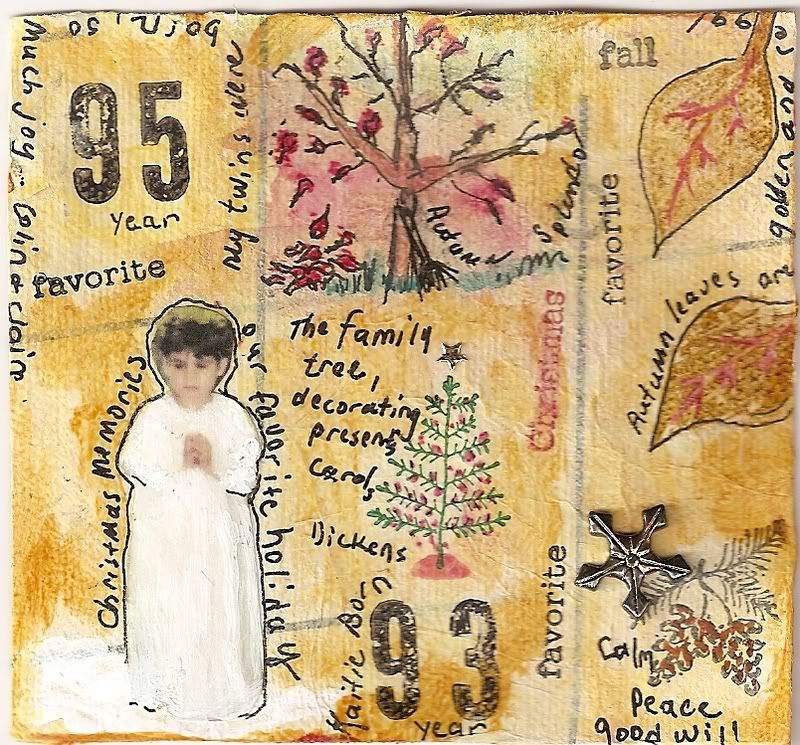 This is the week before school begins at our home. We are running around, finding that perfect back pack, note books, getting hair done, dentist appointments...well those of you with school age children know the routine. There is something soothing and comforting about this annual activity. My children are so excited to start back, mostly because of their friends. While summer has been refreshing, the new school year heralds in Autumn. Which brings me to this weeks topic...Favorite. Autumn is my favorite season and I included a little drawing in this weeks offering.
Sound of Music...Rain Drops on Roses.. was all I could hear in my mind when Rosa posted the theme. I was not sure how to depict that song because I have a lot of favorites. So I took a subset of favorites to include in the work. I had this scrap piece of canvas and used that as the base for the piece. I used collage elements as well as my own drawing. There are a few stamped images as well. Mixed media would be a good way to classify the work. So I have my two favorite years, my favorite season, and my favorite holiday. The canvas was washed with gesso and then tissue paper (dress pattern) was adhered on top. Colored washed were use to achieve the look.
Now I am off to a high school orientation. Kaitie is a freshman. Where has the time gone?