What a weekend it has been so far. I never seem to catch a moment for my creative process addiction. I spent some precious time with my hubby and twins on Friday. It was great reconnecting with my 15 year olds. No talk about dance, no performances, no school work (obviously) just plain talking. We visited the Cuneo Museum in Vernon Hills Illinois. http://cuneomansion.org/ , this link will take you to the story of this beautiful old mansion. If you click on the media gallery, there is a 6 minute video on the history of the place. I have been to the Cuneo Mansion several times before this. The history is interesting and the art and artifacts at the mansion are beautiful but what was really gratifying to me was watching my twins expressions as they toured the grounds and inside the mansion. The place captured their imagination and I was so lucky to share it with them. We talked about art, and the historical timeline that led this family to Vernon Hills. They loved all the beautiful pieces of art that the Cuneo's amassed in their lifetime. It was so wonderful to just chat with them about this period of time. Of course afterward, we hit the shopping mall that was maybe inches from the mansion. And then my "old" twins were back talking about video games and all the stuff they were going to buy with their money from babysitting and cutting grass. Sigh.....
Today I spent the entire afternoon at my artist reception. It was pretty lackluster. I did meet two other artists who shared the gallery space with me and they seemed nice but our conservation was pretty formal. They knew each other and pretty much kept to themselves. I was in no mood to be friendly so I did not intrude. I need to vent about this event but have not decided if I want to share those ventings here. Maybe if I sleep on it....
Corrugate Texture
So the few minutes I did manage to steal for myself, I finished one journal page and have 3 in progress. I have a class coming up on the 25th and the clock is ticking down. We are going to "experiment" with a variety of stuff to add 3d dimension to our substrates (journal pages in this case). This finished page actually started out with a hefty amount of corrugate glued down. I added tissue over the corrugate for additional texture. Then I decided I hated what I had done and drew all over it. Funny how that works out. Our theme for this upcoming class is places we have visited. I have a series of prompts for written expression with one being: "a place of fun." Disney World was my place of fun, twice :). I have journaled on the spokes of the Ferris wheel.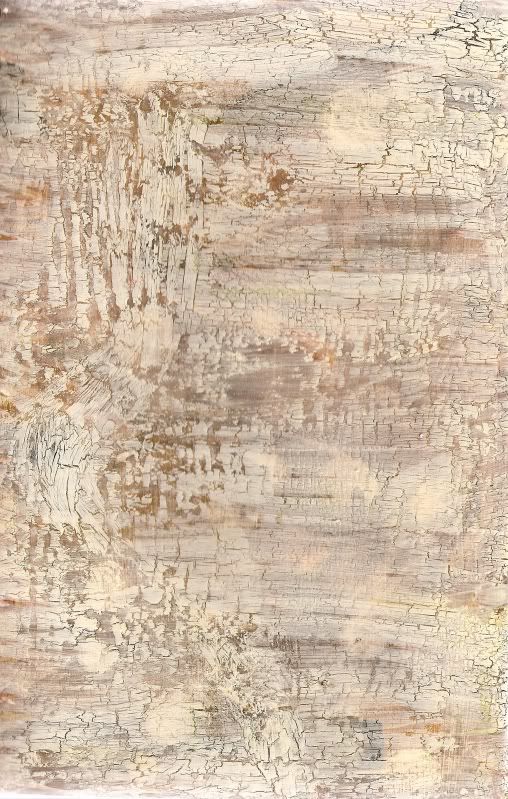 hide glue texture
I also wanted to share this hide glue texture once again. I really love how this page turned out and I believe I know what I want to journal on this page. Can't wait to get back to it. The other two textures will include light molding paste and plain old cheese cloth. I love building texture and I do hope the class will have fun with it. Still much to do on these pages and I have to write up instructions as well. I hope I remember what I did. I always start out my creative time with the intention that I will document what I am doing as it is getting done. I even keep a pad of paper next to me. So do you think I ever follow through...ha that will be the day!
Hope you have a wonderful father's day celebration tomorrow and a creative day as well.
k