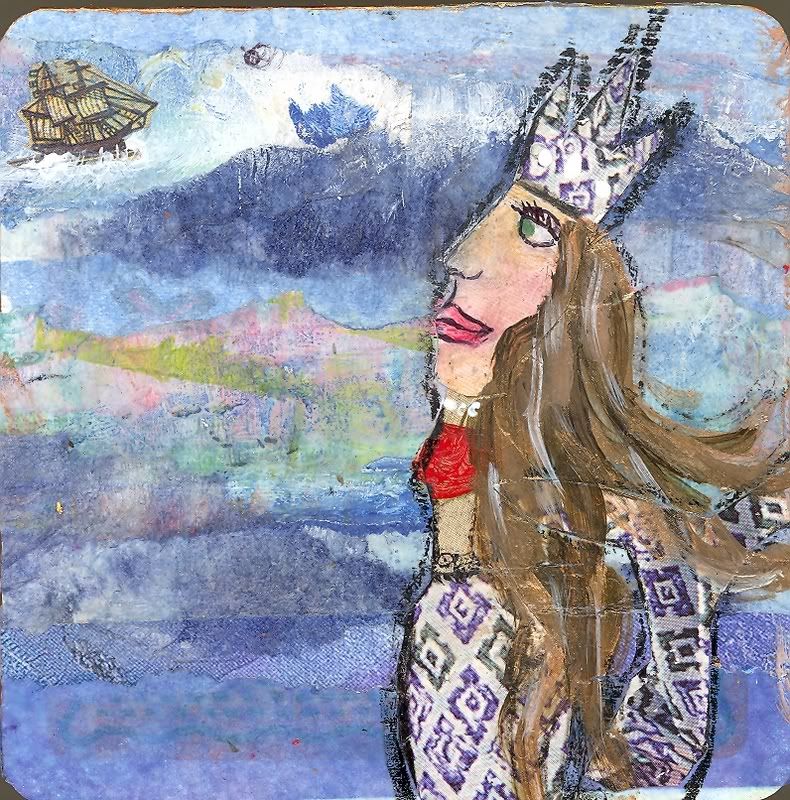 I actually finished this piece on Sunday. I wanted my husband to take it with him today. There was a huge Outsider and Raw art show at the Merchandise Mart in downtown Chicago and I wanted him to leave it there at one of the gallery booths. Marc actually went to the show on Friday and he
said it was absolutely awe-inspiring. With a gazillion galleries representing an equal number of artists, there was plenty of eye candy. Perhaps his most humbling moment was meeting Phylis Kind. She is the New York gallery owner who put together a retrospective of Martin Ramirez's work. It is traveling the country now and we plan on viewing the show in October at the Museum of Art in Milwaukee WI. Marc talked to her about this great artist quite unknown until just recently. I think he was in art heaven. And where was I? Working and shuffling kids to and from dance classes.
With water as a theme, I immediately knew that I wanted to try my drawing hand once again and create a mermaid. The ocean was made with a slew of scraps that were laying on my work bench.
I drew the mermaid on a separate piece of paper and then she became part of the collage. The substrate was a drink coaster from Chili's. She is kind of looking at a ship wondering what it is really like up there. I entitled the piece "From the Depths." I wonder where Marc will leave her....
k