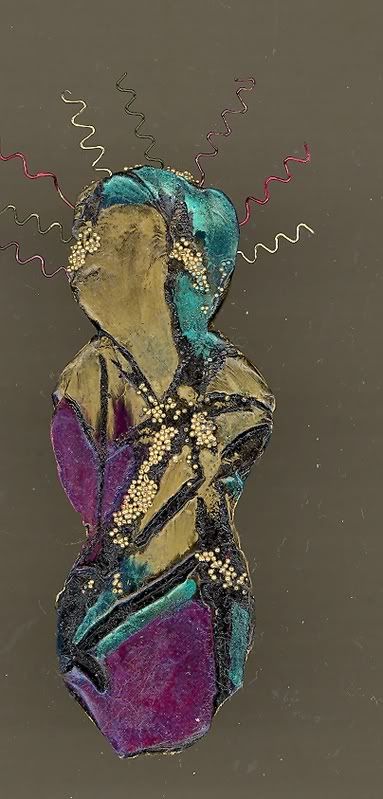 What a day I had yesterday. While I did finish my found art piece, there was no time to blog it. My beautiful 14 year old daughter was inducted into the National Junior

Honor

Society. This event pretty much was an all evening affair. I was the only Mom who balled like a baby as I congratulated her in front of an audience of class mates and parents. She was so embarrassed and did not understand my emotion even though I tried to explain it to her. You see,

Kaitie

has a reading disability. She is under the dyslexic umbrella. She and I worked so hard every single night for eight

fricking

years. Countless essays, tests to study for, books to read, assignments to do, projects to finish...I just about thought it was for naught. And now here she is, ready to graduate eighth grade, a top student. I think any Mom in my position would have done the same thing. I am so proud of her. I guess I have been pretty hard on her all these years...because I know she is capable of brilliance. But when you hate to read, I mean absolutely hate to read..well that does not get you very far in any world. So I rode her, and spoon fed her , and taught her how to memorize. We have been at each others throats for years. I guess this is sweet vindication! She can do it is she wants too, painful as it may be, she can do it.
So on to my found art piece. When I was small I would play with a variety of dolls. Barbie, baby dolls (Chatty Kathy,

Thumbalina

to name a few). The other thing I did was art. I had a big supply of color and paint by number sets, pastels, Crayolas, clay, and coloring books. My Dad loved to sculpt and paint. IT was one of his hobbies and I would sit with him and do my art. What I loved about my Father is that he encouraged this kind of "play." There were few rules (except clean up after or Mom will get you). When I sat down to compose a

found

art piece I wanted to combine the two, dolls and art. I can't sew..and regardless, to make an

Art

doll is out of my league. But I did have some polymer clay and so I fashioned a pin out of the clay. It is a Diva of sorts. She is painted with Lumiere paints and is enhanced with tiny beads and artistic wire.
I think I will leave this at a restaurant this Saturday.
K