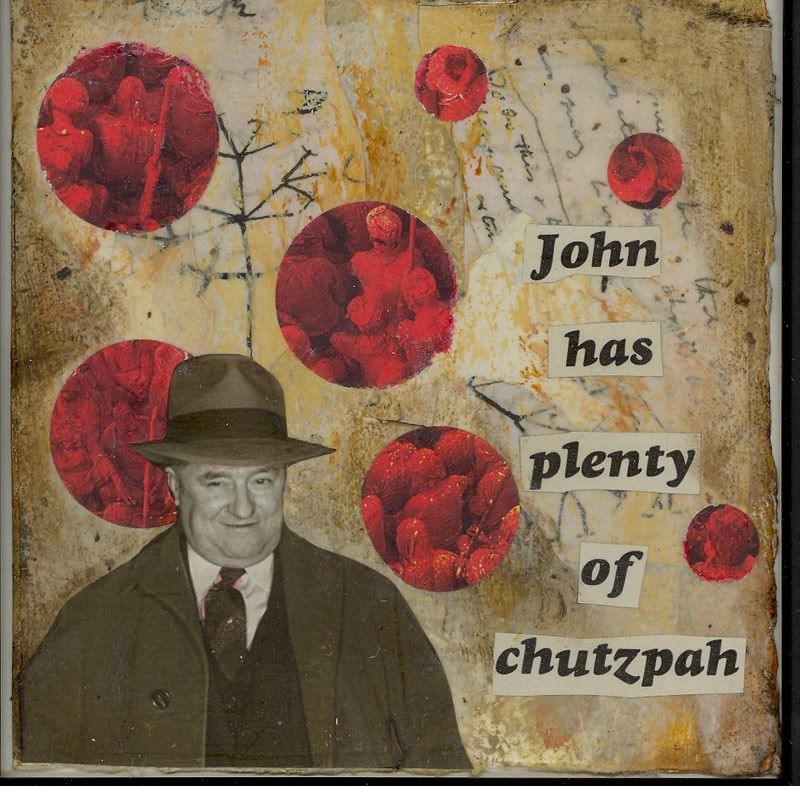 Last night I hung my 13 works at the Conscious Cup

Roastery

and Cafe in Crystal Lake, IL. I am nervous, the excited kind of nervous. I have to say this has been quite a learning curve and I definitely learned some of my limitations! Rosa Murillo was kind enough to answer some of my numerous questions about how to go about a gallery show. She also supplied me with an excellent resource: http://artistemerging.blogspot.com/ , chocked full of info for the emerging artist. I am so grateful for such a site. But after immersing myself in the information there, I felt quite overwhelmed. I guess that is normal for being a newbie at all this. So I decided to wing it, at least for this gallery show.
When I was contacted by the owner of the cafe, I knew I had to seize this opportunity. It has been my experience that in my little corner of the world, mixed media and collage is a bit of an oddity. I think it is time for the public to get a taste of this art form. The galleries here are chocked full of very traditional works, quite nice, but traditional none the less. You will also see some abstract paintings, some assemblage, a little collage, and some outrageous oils (which I am totally not a fan of). I wanted to create some new work but where to begin..... I thought long and hard about what would sell in our area, trying to figure out the market so to speak. Well, that was a waste of brain cells! When it comes down to it...I do not have to feed my family from the income of art sales. Thank God I can create art that means something to me. You can drive yourself crazy if you try to approach creating new pieces from a good marketing perspective. I thought about how I buy art. The pieces that I just had to bring home either reminded me of a special area of the country or invoked strong emotions in me. Art is so individual... My new pieces are for the most part, issues that really touch me both on an conscious and unconscious level. Some of the pieces are very light, as you will see.
My husband helped me hang the pieces. I was pleased with the outcome. Let me say one word about framing though...this is NOT my forte. I simply do not have the tools. I discovered that I can't cut a straight line even with a t ruler and square. I don't have a matte cutter so I had to purchase

pre

-cut mattes. Then the frames I purchased had to be standard size and so with coupons and 50% sales, I purchased black frames from Michael's. The work I created had to fit the frames so there were those limitations even before I began to work. Even with

premade

frames it took a long time to set the work in them because I can't cut a straight line! I do have a "chopper" paper cutter but that is totally inadequate for large sheets of paper not to mention is is just for paper. It would be nice to sell a few pieces so I could pay for the frames...and while I am dreaming, how about an extra $3-400 for a matte cutter! Anyway we did get them on the wall and while not perfectly at eye level, they looked fine up there.
While we were hanging the works, I noticed a group of folks in the back of the cafe. There were maybe 10 people all huddled

around

a computer screen. Well it turned out that they were some kind of art group

meeting

to discuss current work. Talk about intimidation. I did not have the nerve to talk to them.
The work seen here is 7 by 7 and entitled "John." It is a lighter piece, mixed media and collage on watercolor paper. I had this terrific old photo of an Italian relative. The picture is circa 1940s. I can't remember his name, but he was related to my Father. So I wanted to build a simple work around him. Sure enough I found this headline from a vintage magazine and then the work just came together. John has one of those looks that is really hard to read. Is he smirking because he knows something that we don't, is he just happy, or is this a more sinister look (mafioso). Now mind you, I don't think my family was tied to that organization but I can imagine!
More work will follow.
k