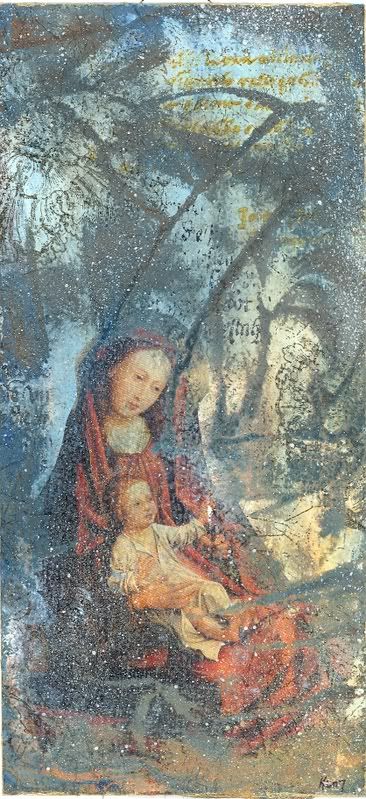 Mother as a topic made me reminisce about my childhood and all that I loved about my mother. That led to thoughts a bit deeper. Am I a good Mother? Who is my idea of a perfect mother. That is when I thought of the Mother of Jesus. Being Catholic, we were brought up with a statue of Mary in our home. we crowned her every May and prayed the rosary daily (well maybe once a week). Her image seemed to be everywhere. We thought of Mary as our Mother, the ultimate Mother. And so the Madre de Todos was conceived in my very messy studio at 2:10 PM today. This is a transfer from a religious calendar and the work is mixed media, watercolor and acrylics, on watercolor paper. It is about 4 by 9 inches in size.
I am going to leave this at my children's school. IT is a Catholic school and I know there are plenty of teachers who will love this.
I am secretly hoping that whoever finds this does indeed hit my blog!
Thanks for the great theme Rosa!
k