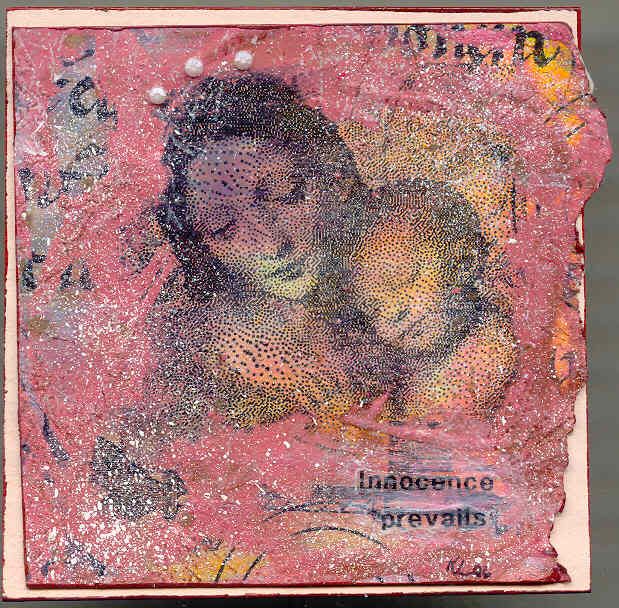 Today was my day, my very first artist reception. The owners of Conscious Cup were waiting for me when I arrived. I was somewhat overwhelmed by their "accolades." Mike really likes my work and is already talking about another show later in the year! My art has only been hanging for a day and a half! Anyway, it was rather quiet for the first hour and then my friends began to arrive. I so enjoyed explaining how each piece was "born." My 14 year old, Kaitie, told her teacher about this and I was so pleased to see Mrs. Gavula at my reception. She bought two pieces! I almost died. She purchased the ones you see here called "Heralds of Spring" and the smaller piece that I did in Dec. of 2005 called "Innocence Prevails." The store owner is considering purchasing a piece as well. Gosh I really was flabbergasted. I did not know what to say or how to react. My husband was there with my three children and the look on their faces was priceless. What I have decided to do for each piece sold is to write up a little explanation of my thought process behind the work and describe the materials used. I will sign and date that as a sort of certificate of authenticity.
For the Heralds of Spring, I was practicing drawing these fantastical faces and it was late in February, rather cold and dreary. I was wishing it was Spring and about 30 degrees warmer. The piece just sort of came together. This is a mixed media and collage piece after of the style of Misty Mawn. I love her whimsical works. Mine definitely pale in comparison. But at least I am attempting to draw again!
Acrylics, oil pastels, inks, rubber stamps found papers and objects were used to create the work on 300 lb watercolor paper. The work is 11 by 14 framed.
The Innocence Prevails piece was actually one in a series of 4. The other three were sold through Ebay in the Art Squared listings. This work is 6 by 6 in size and is primarily watercolor and inks done on watercolor paper. This piece was done right before Christmas in 2005 and came into being because I was thinking of my religious roots. Through so much adversitiy, Mary still managed to give birth to Jesus, a true miracle.

K