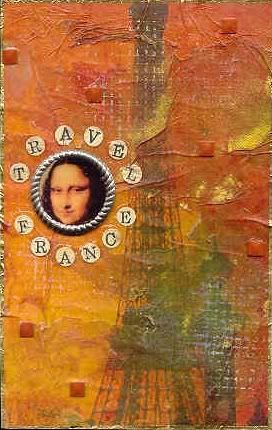 With the theme of travel, I immediately thought of all the places I would like to go in the world. I love to travel. It is just since we have a family, it has become prohibitive. So one of the first places I want to go after the kids are in college, is France. It is all about the art, the wine, the history, and the cheese :) Oh I wish I could go and just wander through the galleries and museums, sip wine at some quaint cafe....You get the picture. So when I sat down to create a piece about France...I came across in my pile of stuff, a piece that I had duplicated for a swap about a year ago. It is an original work,

collage

, about the size of a postcard. The piece is entitled: Travel France (duh). Someday........
I decided to use this as my found art work this week even though it was made about a year ago. Today is my twins birthday and my time has been very limited these past two or three days. Oh and from my little solo show I have a commission that is taking up brain space! I wish there were more than 24 hours in a day!
k