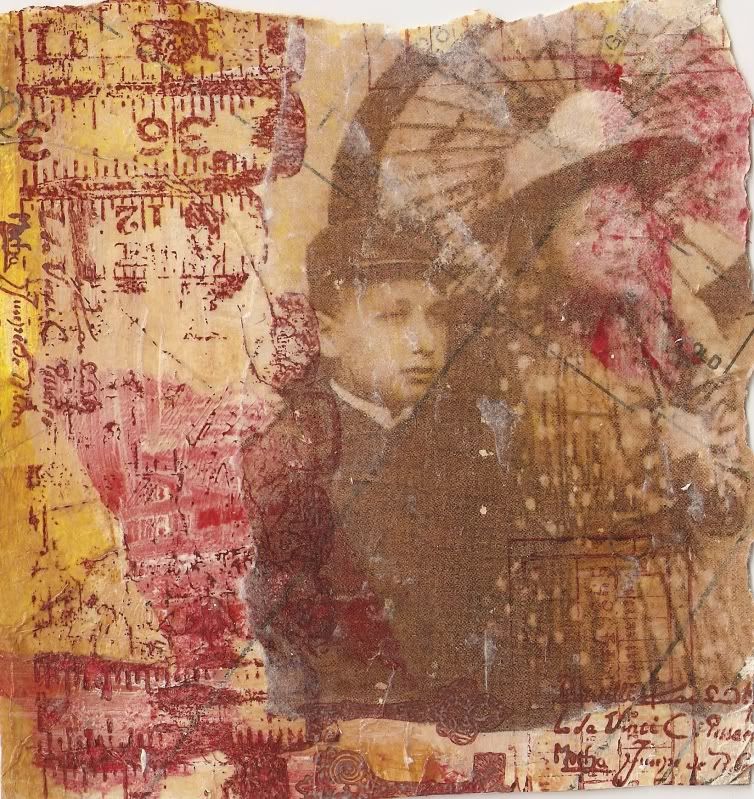 Prepped before class; paper removed
in class
It was a good night, she says even though the last post was my rant about transfer techniques. And while I would have loved to stop talking and laughing long enough to shoot some pics of the gals working on their transfers, the truth is, I just plain forgot. These classes are so good for my soul and I say that even though I run around the house grumbling that my life is too complicated with no time to even breathe especially 4 hours before a class. So, just how were the hours preceding my class. Here comes my justification for my grumbling:
1. 6AM wake up, brush teeth
3 prepare three greyhounds fresh/raw meals
clean/wash bowls (raw food can't sit on those surfaces for too long
4. run around getting things ready for pre-k (my little ones needed an art project for Friday so I was chasing down a few materials)
5. 7 AM- realize that my oldest (almost 18 yr old) forgot her money for a senior picture that was due.
6. left early so I could get to her school before it started then made my way to work
7. 2.5 hours of one child crying for her mother (and she is almost 5). I got relief at 11:30
8. run two errands then back to work at 1 PM for home coming parade (yes it was homecoming yesterday and with three teens....)
9. Picked up Colin from parade and headed home. Arrived 2:40
10 headed to my studio to run in circles. Finished/prepped some samples for the evening art class and finished packing ( I have a large Sterlite container that is always half packed for class with staples that are used regardless of what I demo).
11. At 5 came out of my cave, prepped dinner (god forbid that we eat frozen). Only had three to feed but also prepped my 3 dogs raw meals.
12. Cleaned up and headed out at 5:45.
13. Hit Staples to make copies of images to use for transfer class (only just found out how many copies I needed on Thursday and had no time to get their prior to leaving last evening. However this was completely understandable since we wait until twenty four hours prior to class for late registration, I had budgeted my time very poorly).
14. Dropped Colin off at Homecoming game (my girls were who knows where)
15. Hit The Studio School of Art at 6:30
16. Helped to set up
17 Hit the ground running.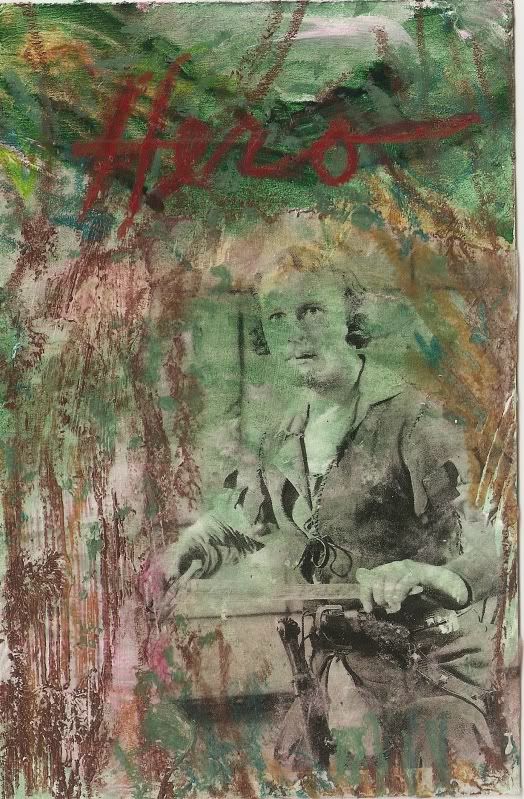 Demoed in class: soft gel matte transfer
Errol
Notice I did not eat breakfast nor lunch. What a day. But during class I could feel my blood pressure return to normal. Art is magical that way. So, above is a sample that I did prior to class and here is one that was demoed in class (I hurried through the second one). Both are soft gel matte media transfers. They are not perfect but that is the charm of the transfer. I think that my biggest joy was watching the fledgling mixed media and collage artists achieve some measure of success with the techniques shown. I made sure to demo Talbot's transfer method and give them a great book recommendation (Image Transfer Technique Workshop, 2009, by McElroy and Duncan-Wilson). I think once artists start going down this path, even though it is dangerous, frustrating, and often ambiguous, if one achieves the desired result, there is no turning back. OK now back to my own studio to finish Blue Moon!