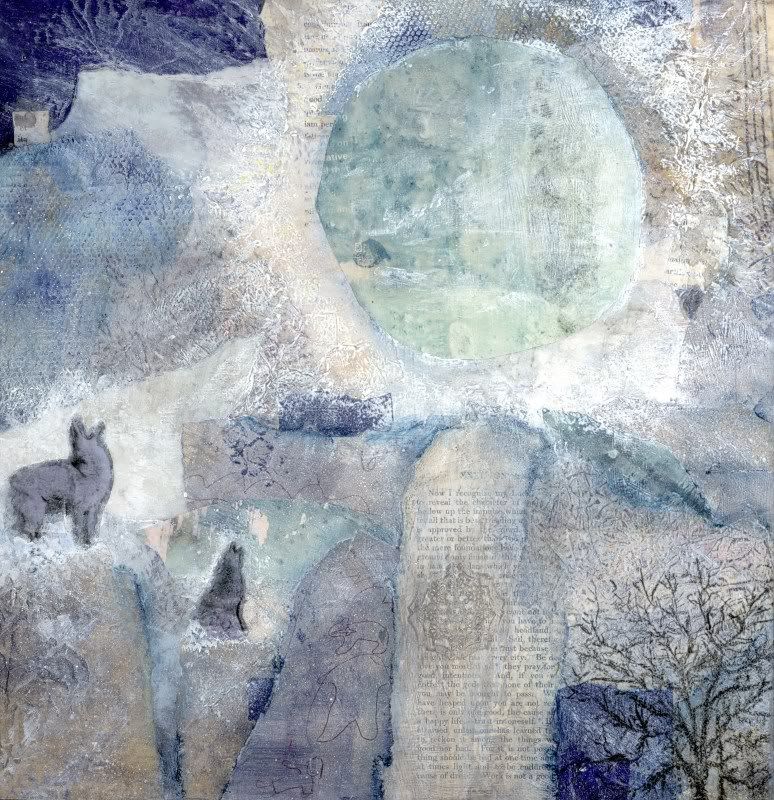 Blue Moon 12/31/09
12" x 12" mixed media and collage on cradled masonite board








Blue Moon 12/31/09
"The moon was exceptionally bright
that New Years Eve 2009.
A Blue Moon shinning through the night
12/31/09
And in the distant full moon light
a coyote howled
a tree swayed
The Moon smiled, all was right
that New Years Eve 2009."

by Kathy LaRocco
Its finished and it came from my heart. This Blue Moon so moved me last New Years Eve, that the image was burnished on my soul. The image kept calling me for months and finally at the end of August, I began the work. I don't think I ever saw a moon so bright or so big. As we drove home from our dinner, the moon followed us, as it typically does, but something was definitely different about it. Maybe it was the night air, or maybe the yipping of the coyotes that live in a preserve area just a few miles from our home, I don't know for sure. However, the coyotes were definitely affected by the moon that night. I think it was the first time I heard them bay in unison.... Definitely eerie. You can see this work at The Art of The Land Benefit gallery show.
Now its time to move on. Just as that Blue Moon stayed with me for months, so too has an image depicting the joy I feel when I watch my Colin and Claire dance. My inner voice is screaming at me to do it. So I guess I will comply. But first, there is always a first (that is why it took months to get to the Blue Moon piece) I have to prep for the Papers Packets class coming up this Monday. Lots of screening to cut.
k