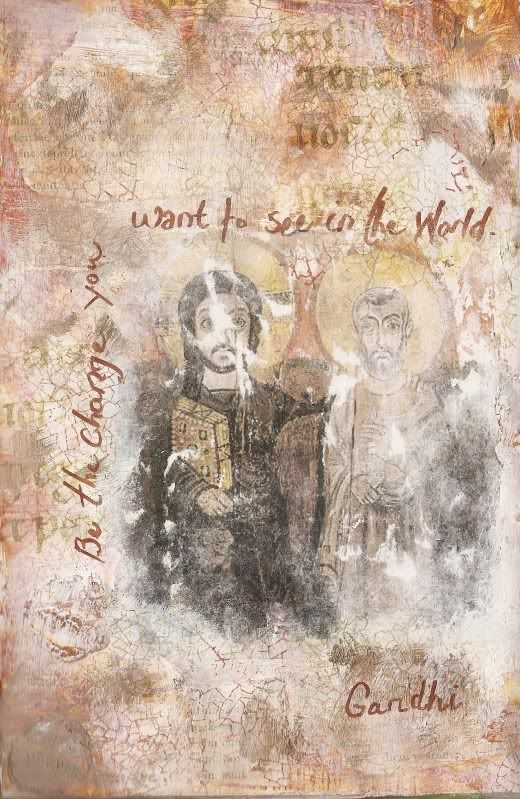 gesso transfer in my

journal.
OK, I am going to admit it. I have a love-hate relationship with transfer techniques.
I remember about four years ago when I first discovered, I think it was Claudine Hellmuth, adding transfers to her earlier collages and then I saw an article in the now defunct Expressions. I can't remember who the artist was but there was an entire article on making a transfer. Since that time I have been captivated by the technique(s) trying maybe 20 different solvents or adhesives and even laser tran. Most of these methods yielded inconsistent results for me. I thought maybe a little hocus pocus might help lol. It actually drove me crazy. My learning curve included discussions with mixed media artists via the Internet. You know the ones...where to get the best Xerox copies,which shops actually had xerox machines that still use toner. Then there were the ink jet discussions: which printers were best, which archival inks were preferred, what about the paper. Why don't my transfers come out like so and so's? So how many of you, as mixed media artists, will attest to my revelation.
To continue, about three years ago, maybe 4, I took a workshop with Mr. Jonathan Talbot, and my transfers are finally recognizable www.talbot1.com/ . I subscribe to his method almost religiously now, even if I may not use his collage technique for a particular work. So, cool you say...well not really because now I have decided to teach a class in which the black art of transfer techniques is explored. Stupid on my part I think, because while I am certainly knowledgeable, other transfer methods just don't work well for me (most times unless I use some black magic hocus pocus). Sitting on my studio shelves are about 10 different adhesives like DAP clear caulk, Elmer's Glue caulk, OmniGel, soft gel matte medium, soft gel gloss, polymer medium, fluid matte medium, Diamond Glaze,and I think a few more. And then there are the solvents like Xylene, acetone, various rubber stamp cleaners (don't know what is in those), and Citra Solv. Ah yea lest we forget beeswax and assorted acrylic paints like gesso. I guess the hard part in teaching a class like this is that I really only use one method to do transfers (maybe two methods). So what do I teach. I certainly don't want folks to run out and buy all these media only to get marginal results, so I went with stuff I know that they will have on hand: soft gel matte medium and gesso and then I will wave my magic wand :) I decided that I would demo Jonathan's methodology so they can see what is involved. I remember seeing Jonathon do his transfer and I thought "It can't be that simple," but it was (I say with a huge smile). I digress. I just finished some gesso transfers as samples. They turned out OK. The soft gel matte transfer turned out OK as well but I am not a huge fan. There are variables and really most write ups suggest letting the transfer dry overnight. We are going to cheat and use heat to hurry everything along (using my trusting heat tool and an iron). So there you have it... I hope to have a good write up for this class and then I will be sure to have that magic wand with me.
On the current work in progress...No time today to get into my studio. But yesterday I made some good progress. I added to transfers which help elucidate the work and I am very close to finishing (I think). Yea.
k