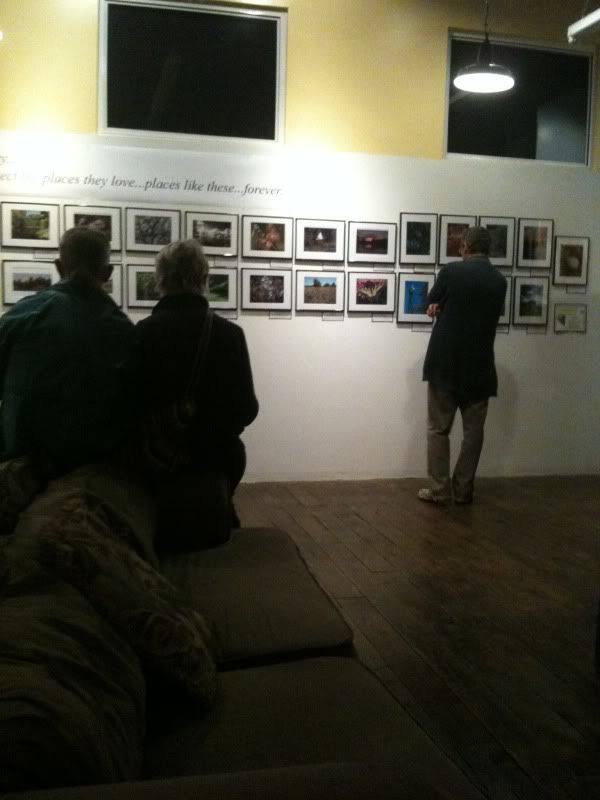 It was one of those never ending weekends...So much to do, running in circles, barely catching my breath... I don't think I could even regurgitate all here without burning out! Suffice to say I do have comments on The Art of The Land Benefit for The Land Conservancy of Mchenry Country. KUDOS to the TLC for a beautiful gallery show. I have to say it was "the" event to be at this weekend if you lived around here. Friday night was a pre sale of the art followed by story telling music and poems inspired by the land. I brought my Claire to see the exhibit as she had extra credit points she could earn for her high school art class. Yep, she had a good time. She got all dressed up, very Soho if I do say, and she knocked em all dead. Wouldn't you know that I don't have a picture of her. I am so bad at that. Then on Saturday evening was the one night gala. Since the new space opened up in the Starline Gallery, there was great room to move around. I took a few pics as you can see. And as I was basking in all that beautiful art, I started thinking about next years show. I want the papers that are in my paper packets to play a significant role in my body of work next year. Ecological Ethics in our Global Society will be the theme I will be working from (hopefully this class will be a go at The Studio School of Art).
I think that this theme will fit nicely with land inspired art.
The rest of the weekend was taken up with an all day festival in Crystal Lake that my Colin and Claire were involved in. They spent time at the dance studio leading mini classes for walk ins, handing out literature, and performing. Long, long day. I also ran to the Opera House to get my tickets for this years Nutcracker, yes I said the Nutcracker. Tickets go fast around here! My Colin is the Nutcracker Prince again along with Spanish Chocolate and Chinese soloist. While Claire is Colin's partner in the Chinese dance. Sunday I picked up art from the Art of the Land Show, did 4 other errands and then cooked dinner. I don't think I sat down till 9 PM (after throwing in 4 loads of wash). Monday was a blessing!
El Valle de Paz