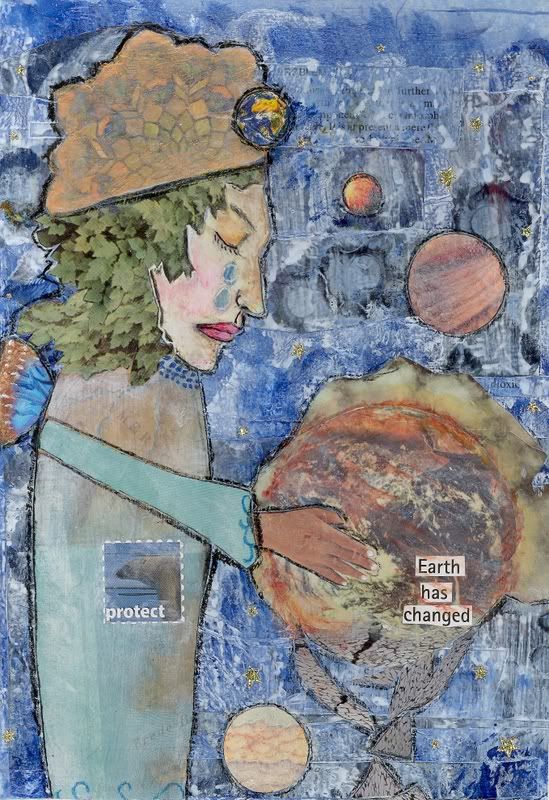 Well my first solo exhibit is over. I took down the art on the 10th of this month. I was totally humbled by the entire process. But I did get through it. I sold 5 pieces (one was a commissioned piece) and was able to donate 20% of those sales to Greyhounds Only
http://www.greyhoundsonly.com/
. I did make a few contacts and I am going to participate in Gallery in the Garden..which is an annual art show in the beautiful gardens of the an artist residing in Woodstock IL
http://www.galleryinthegarden.org/
. This even takes place in July. Unfortunately or fortunately depending upon how you look at it, my children have a ballet recital on the same day but the artist who hosts the show, Deb Glaubke, said it would be no problem if I left early. How cool is that! I decided I would complete at least 4 new works for this show. I will include maybe 6 of the works from the Conscious Cup solo exhibit.
I will leave you with a work from my first solo exhibit. It did not sell but it is one of my favorites. I created the work after seeing the film "An Inconvenient Truth." Whatever you might think of former Vice-Presidents Gores politics, you have got to admire his persistence. I was so moved by this film and the powerful message behind it, that I created a work based upon my emotions. As a scientist I have no problem with his data. I even did a little research myself because I thought that the way the data was presented was primarily for a non-scientific public. The work is dedicated to his efforts to educate the public and it sells for $95.00 framed. The final size of the work is 16 by 20 and it is a mixed media and collage piece on watercolor paper. The title of this piece is:
She Weeps for Us.
Take a close look at the Earth
,
I think Mother Earth would nod in agreement.
k