After the Paper Packets project culminated in our show, I took a deep dive. I really needed a break from it all. So no art since the 15th of April. Now its time to get back at it. I have a few ideas of where to go with my Claiming Sanctuary series (using papers from the paper packet project) and I have a new work I want to start for a very special baby named Ava. I also just delivered 3 works to the first ever all mixed media and collage gallery show in our area. Its about time! That show begins May 5th and runs a month at the Old Jail House in Woodstock, Illinois. Also I have a May 30 (or so) deadline to submit the works I want to hang for The Land Conservancy "Art of the Land" show in September.
It is really nice to be juggling these shows.
Back to the Paper Packet artist reception. A nice evening was had by all. I think we stirred the pot a bit with these works and I was so proud of all the emerging artists. I was overwhelmed when I viewed all the finished and framed pieces. Absolutely amazing. A few of the works sold as well and that was just icing on the cake. I'm not sure how we will top this project. It was a while in the making and I so appreciate all the artists sticking with the program. I think it was a real learning experience for me in that while I have been in gallery shows, I never have been on the planning side of a show. I can't thank Lucy enough for her support and guidance. We learned the hard way.
There are things we will do different next time for sure.
But all in all, I think the show was a success.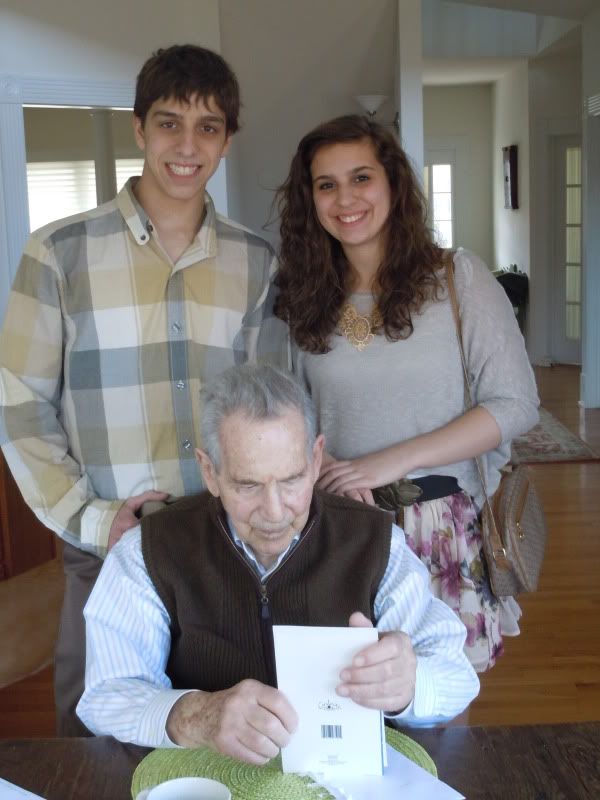 Finally, on April 24th, Easter, my father-in-law turned 88. Here are my twins helping him read a card. Dear Jack is in the throws of Alzheimer.
It has been a long road for my husband and his sister. My husband and I feel pretty useless. Between running our 3 teens around and all the other baggage associated with them, it has been hard to be there for Jack. He is deteriorating quickly. My sister-in-law is a saint. She has been running interference between his doctors, psychiatrist,
and the woman who runs the home where Jack is living. It has been a nightmare for her. Hopefully his meds will be figured out soon and prescribed according to his needs.
Hopefully I will be in the studio at least one day this week. Prom is Friday and it is Kaitie's Senior prom. Big day
.
K