Step 1:The Papers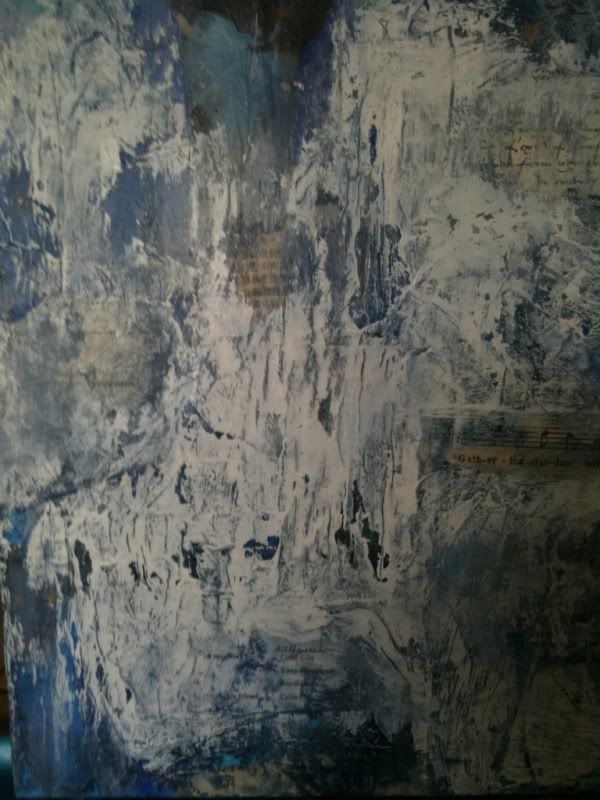 Step 2: Background painted
These last few days have been heaven sent.I am finished for the school year (yea, I graduated 10 pre-k children) and my own children are still in school (she said with a smile). Colin and Claire have finals right now and tomorrow is their last day. I am taking advantage of this peace and quiet to do what I love to do...create. since I have the luxury of time this week, I though I would share some of the steps involved in this piece as I go along. This work is for a very special woman. She is one of Colin and Claire's dance mentors and has just recently had a baby. I usually don't like to share my work so early but I wanted to share the evolution of this piece because I am becoming attached to it (on many levels). I took these photos with my iPhone 3GS so the poor quality should speak for itself.
Having dancers in my family, well I am often inspired by their performances. Very shortly (2 weeks to be exact)Colin and Claire will be performing in Swan Lake. So it seemed appropriate to do something in that vein, especially since the new baby is a girl.
The basic papers include some adds from Dance magazine, an old Swan Lake program, and old ticket from Sleeping Beauty, and some pages from old books.
The papers set the mood. In Step 2, I glazed the papers in three acrylic using Misty Mawn's sort of style for moving the paint around. I then used some alcohol and rinse aid while the paint was still wet. This accounts for the streaking. Step 3 was done today. Now you can see where I am going with this.Since we subscribe to Dance Magazine, I found a photo / pose that I liked and sketched it as best I could. Using a Stabilio pencil to sketch and then I whetted a brush to push the graphite around to sort of shade in those darker areas (like an under painting but cheating a little)
.
I have several more elements to sketch in and maybe do a transfer rather than sketch the final element. I can't wait to see this unfold. There is still much to do.....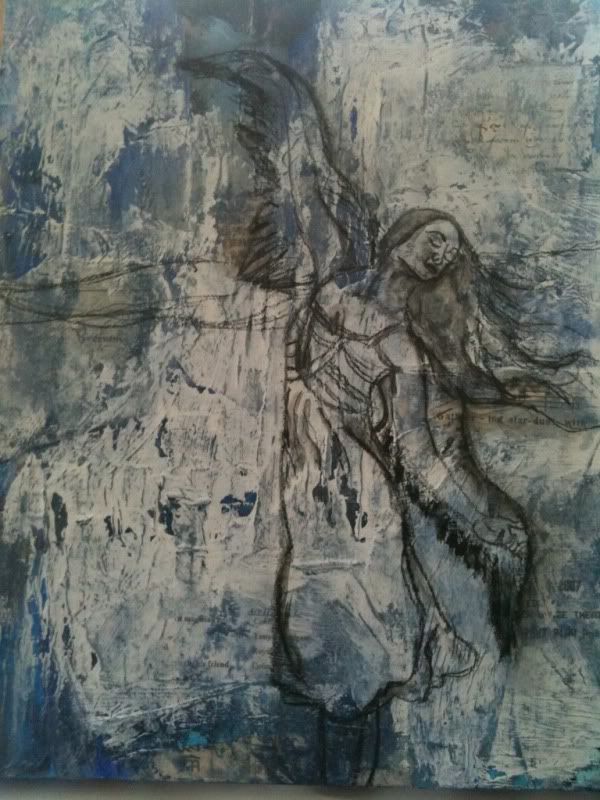 Step 3: Loose Sketch of main image
On another note, the artist reception for the collage show called E/Glued,was wonderful.The show was beautifully put together and showcased the work of about 15 artists from around the area and out of state as well. I was indeed very proud to be a part of that show. Unfortunately I did not take any pictures grrrrrr. I forgot. But in my defense, I had a second artist reception to go to that same night. I sort of was preoccupied. David Becker, renowned water colorist / artist, had a reception that was for his students. He teaches at The Studio in McHenry and has quite a following. The show was wonderful and I am so glad I had those few moments to soak in all that talent:)