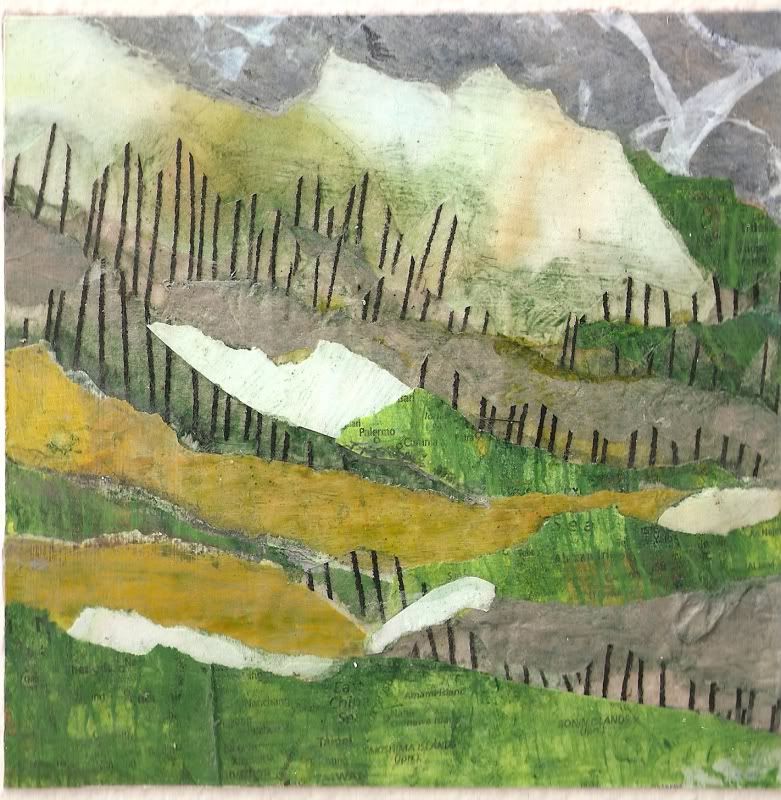 Sedge Meadow I (from the series: Claiming Sanctuary)

I don't think I have been this excited about my art in quite sometime. There is something about working with talented people, all focused on a similar goal, that just gets those creative juices flowing. This piece, Sedge Meadow I, is the first in a small series of works focusing on the theme "Ecological Ethics in our Global Society." The series is entitled, Claiming Sanctuary, and it is a play on words (think about it and you will get it). The piece is 8 by 8 inches and was done on 3oo lb Arches rough watercolor paper. In addition, I just finished my second piece in this series entiled Sedge Meadow II (not a very creative title but oh well). And I will probably do a third sedge meadow. I am totally rocking on these beautiful places that face such an uncertain future (unless we do something now).
Last Thursday, the Paper Packets group met to unwrap their packets and look at their papers (unfortunately I did not get any pictures even though I had my camera with me). What a great evening. We all brainstormed what the the theme of our soon to be gallery show really means. Ideas poured out of everyone and I could barely keep up writing down suggestions on the dry erase board. I do hope this will ease peoples feeling about having a theme. Actually, I was so hoping that this would focus our artistic efforts as well as unify the show. I think those that view our works will have some semblance of understanding why these works are so meaningful and just how truly unique they are. After all, it is not everyday that mother Nature has such a huge hand in the process. Once these papers are gone...that is it. They are one of a kind...as will be the art that is produced from them. I am so excited for all of you ladies. I know your work will be amazing. Our gallery show will begin April 15th (with a meet the artist opening) and then run about 4 weeks. Still a lot of work to do but it is the kind of thing I thrive on. This subject matter is so near and dear to my hear. I just wish former Vice President Al Gore could make an appearance (hey why not dream big, I mean really big LOL).
This will be the first gallery show for many of the artists participating in this project. I want to thank Lucy at The Studio for lending us her space. I know that your walls will be adorned with incredible work. I hope this experience will be fun and not so scary. You are all amazing artists! Your work and voice should be seen and heard. Remember, we are all in this together and I could not be more proud of you!
I have some other things cooking too. I really have to get cracking on a collage gallery show that I was invited to participate in (once my jpegs have been looked at). And this morning I received a lovely comment on my last blog post that I though was really exciting. I need to look into this a bit further though and then I'll post about it. And finally, I need to do a piece for my the Pink Ribbon Angels breast cancer fund raiser. I'm smiling now...life could not get much better than this.
More pictures will follow soon of my papers (as I work on them) and of course, my finished piece.
Happy and peaceful Sunday to you all!
k