Gosh it is so hard to believe the course/class is over. Misty Mawn's Stretching Within course did just that. It had something for everyone. Once I figured out that there was no way I could "keep up" with all the assignments. I just picked what I would enjoy the most. I did "stretch" myself with drawing assignments and the painting exercises. There was so much more though and some I really had no interest in, at least for right now. I did take notes for future reference and I did copy all the useful links with her favorite tools of the trade. For example, I can't wait to try the white gel pen she has recommended. I have yet to find a brand that will handle mixed media works. I promise to review it once I order and receive it :)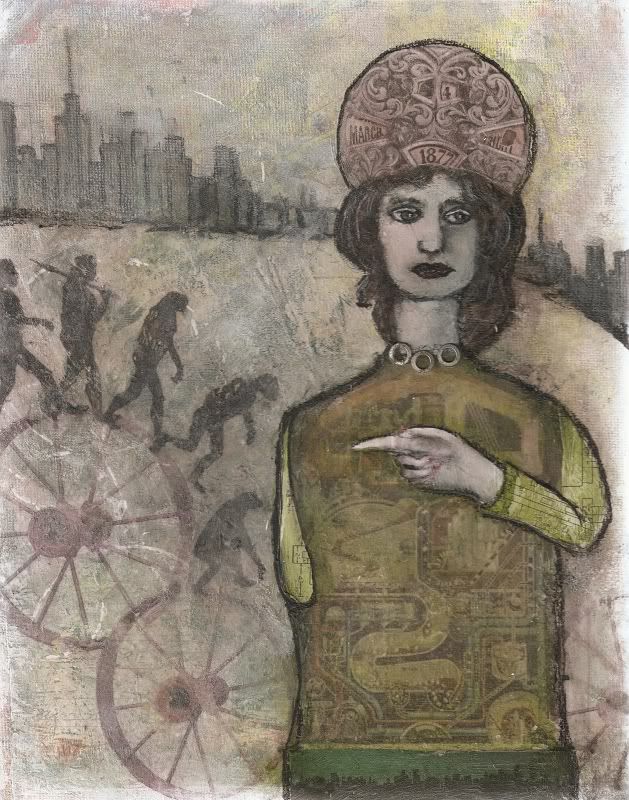 "Industrial Evilution."

So how much art did I get done. Well, not too much. I sketched more that I have in decades. I did a couple of paintings and one collage that you see here. This work will be mailed to Misty for a future article in Somerset Studio (about her course). I plan on getting it out early next week. Bottom line, would I take a class with her again? Oh yea. Having wanted to study with her for years...this on-line class was the next best thing for me because travel is out of the question at this time.
A little bit about this work. Often times I try to make some kind of commentary with my mixed media/collage works. This one definitely is full of my ire with how things are going in the world.Lets just leave the rest to your interpretation. I used images that Misty gave us (the bust of the woman, her head piece and her hand). In this work I did a total of 10 transfers, all of which turned out pretty good. My collage glue for this work was soft gel matte medium (Golden). Some of the media I used included: acrylics, water soluble oil pastels, graphite, washers, and a variety of papers. I composed the piece, if you will, lying in bed before I fell asleep (over about a week). And I will say that I am pleased with it because it actually does convey some deep emotion. So now it is time to move on. I am grateful for this experience and will use it to build some new work that will emerge out of my paper packets.