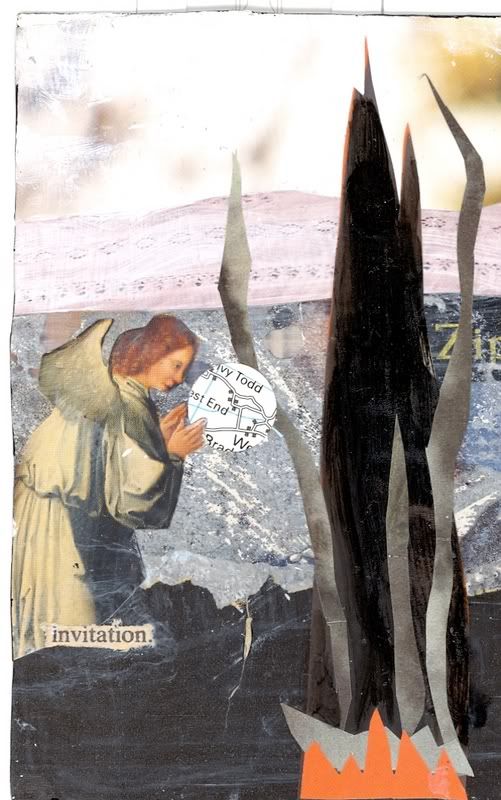 OK so I have definitely been doing too much thinking as of late! With a theme of light, I decided to go after the light vs dark angle with a religious spin. This work is done on a child's flash card and is approximately 4 by 6 in size. I used a variety of papers in this collage, some were altered. The idea here is that out of darkness comes the forces of evil. Evil is represented by the big dark obelisk emerging from the flames and smoke in the dark region of the work. The human race has some choices..join the dark forces that are destroying our planet, or aim for the light (the good and righteous life) that will eventually bring us to our eternal reward. But there is a sort of in- between area. That is where the guardian angel resides, just straddling darkness and the grey region, to invite us back on the path of light (I told you I am doing way to much thinking). The angel holds a map for us. We can choose to take it or perish. Lovely huh? I call this collage "Invitation."
OH Rosa... I have got to stop thinking so much. This piece started out as an abstract...
This week I want to start formulating two new pieces in my head, for the gallery in the garden show. I plan on entering 10 pieces 8 by 10 and larger. I would like to have 3-4 new pieces but I will be happy with two. Hopefully I will get a creative urge! The show is July 28

th

.