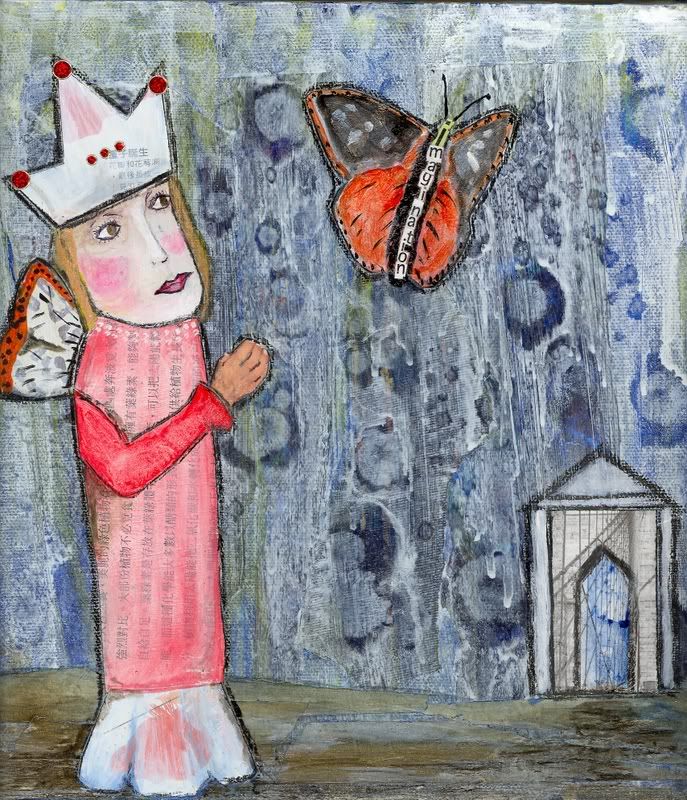 I made that conscious decision to stick my neck out or should I say my Art out there. This came about in February when the owner of Conscious Cup Roastery and Cafe found my found art piece. He contacted me through my blog and currently I am preparing for that show. I have 4 almost 5 new works ready in addition to some other work I had been "saving." With that decision made, I decided to enter the second annual county wide art project for McHenry County. This is in conjunction with our library system, YMCA, and Northwest area arts council. The Involvement Advocacy of McHenry County started this initiative www.involvementadvocacy.org. The theme this year is Outside my Window. I finished my work and I am dropping it off today.
This is a mixed media piece, very light hearted, called "Take Flight." It is done on a gallery canvas 10 by 10 inches in size. The background of the work used rinse aid and alcohol (rubbing alcohol) as described in Claudine Hellmuth's book. The effect is exactly what I was looking for! In this work I used some of my drawings. I think it was about a year ago, in some magazine (I don't remember whcih one) that there was a spread done by an artist who used these fantastical people in her work. She drew everything but said clip art or collage clips would work just as well if you do not want to draw the faces and body. I remember she outlined her work in black. That just sort of stuck with me and so I decided to give it all a try. I really think, for the lightness of the work, that it worked OK. I guess I have given myself permission to draw as long as it is more fantasy and does not have to look like Andrew Wyeth's work. HA as if that could ever happen! Acrylics, masking tape, found papers and objects/stickers were used. My scanner is not quite 10 inches wide so some of the work is not shown...but it is mostly background.
The work will be on display all over the county in a sort of traveling show. Then there is a huge artist reception in May. Should be fun! I hope the work will bring a smile to the faces of those that view it.
k