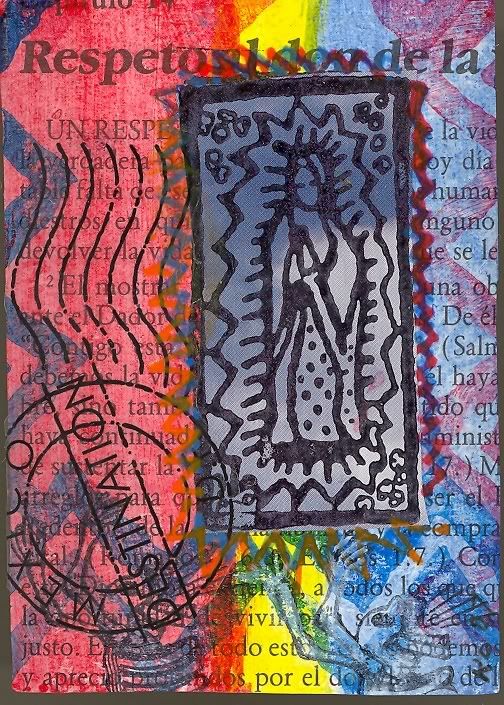 These past weeks I have been trying to make the most of my time in my studio getting ready for this upcoming show (April 5th -May 10th). I have been so focused on the work at hand that I have not had a real presence of mind for much else. With that said...most of my found art efforts have been small, rather straight forward pieces, this week included. ATC's , small post card size works, or book marks are about all the creativity I can muster right now. Yet, I do want to keep creating for this project because I believe in it. This week I so wanted to do an altoid tin shrine but time was not kind to me. So an ATC was about all that I could manage.
Passion...I am half Italian, passion flows in my blood. I have a lot of passions. Husband, kids, my hounds, animal communication, art, music, good wine, good coffee, etc.... to be honest with you, my passions did not come to mind when I first thought about this weeks topic. Rather, what I thought about was what would totally embody that word..Passion. So the people, the culture of Mexico came to mind. I love the flamboyant colors, rich traditions, and cultural heritage found in Mexico. The dances and celebrations are done with a passion not often experienced by the average person. The strong faith exhibited at shrines..pretty amazing. The Ballet Folklorico..you have to see and experience it to understand what passion is all about. Yes...Mexico could be included in the defition of Passion without a doubt.
My little ATC is a mixed media collage using acrylics, inks, rubber stamps, found papers, all done on watercolor paper. It includes an image of the Virgin de Guadalupe (she has a rather huge fan club in Mexico)...and a silly skeleton representing The Day of the Dead celebration.
Granted, I am just a gringo but every time I visit Mexico I feel so alive and invigorated. My art also comes alive. Geesh...now I need a vacation!
K