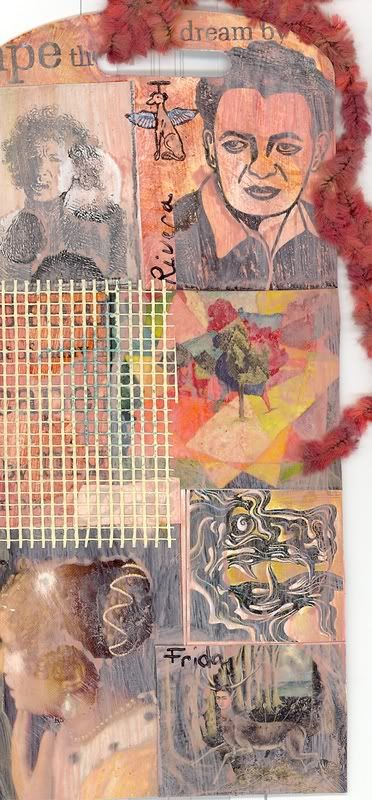 So what I am obsessed with? The first thing that came to mind was my weight. But that is another story. See if you can find my obsession of the moment in my found art piece. If you can't find it..the title of my piece will give it away.
I started to think of some of my favorite artists and do you think they were obsessed? I would say so...so much so that I bet if I were to list a dozen artists, you could rattle off their obsessions. How about Vermeer with those pearls and his very veiled feelings. Or Rivera with Frida or Frida with Diego and death, or Dali..well Dali is Dali, or Rembrant with his poorness. See what I mean. So hence the found art piece, "Greyhound." Yes that is my obsession. If I could I would have 20 more... These hounds are so in need of good homes. I have two and they eat healthier than I.
This work was done on a cardboard backing. The collage methods used were Talbot's. On the final acrylic wash, I dripped some alcohol as per Claudine Hellmuth's techniques. It is a little hard to see with this scan but it did turn out kind of neat. I just finished another collage for a traveling exhibit in McHenry County. I used this alcohol technique with dramatic results. I have to varnish it and then I will scan it.
K