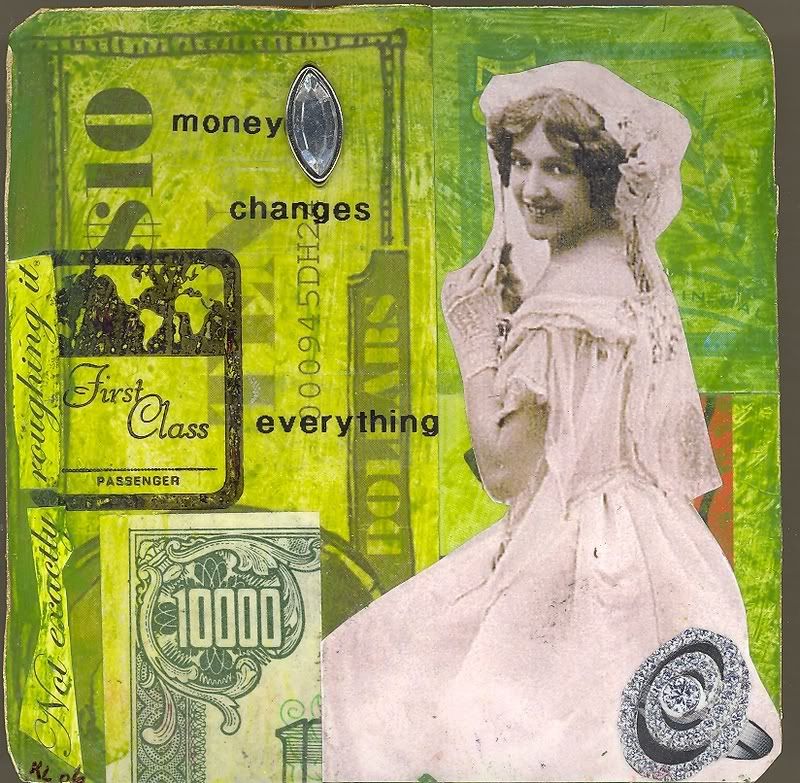 Rosa announced the found art Tuesday topic this past Friday and it was Money. I decided to go for it again. I really enjoyed leaving a little piece of myself for someone to find so I guess I am officially bitten by the found art bug. While working on some deco pages, I completed this work today. I have a lot of cardboard coasters from various local eateries and bars and so I altered one from Chilis. Guess where I will leave it?
This piece is a mixed media collage on a 4 by 4 coaster. I used a variety of acrylic paints and media as well as rubber stamps, found papers (my kids play money from old games) and of course some bling. I usually have several projects out on my work table and it is so easy to add on a smaller work for found art Tuesday. Everything takes time to dry....so easy to work on several pieces at once.
I am not sure when I will be able to leave this at our local Chilis. I do not have the time to eat out on a week night so I may have to fudge a little on when I leave this. Possibly tomorrow, or maybe next Saturday night, but I am sure not this Tuesday.
k