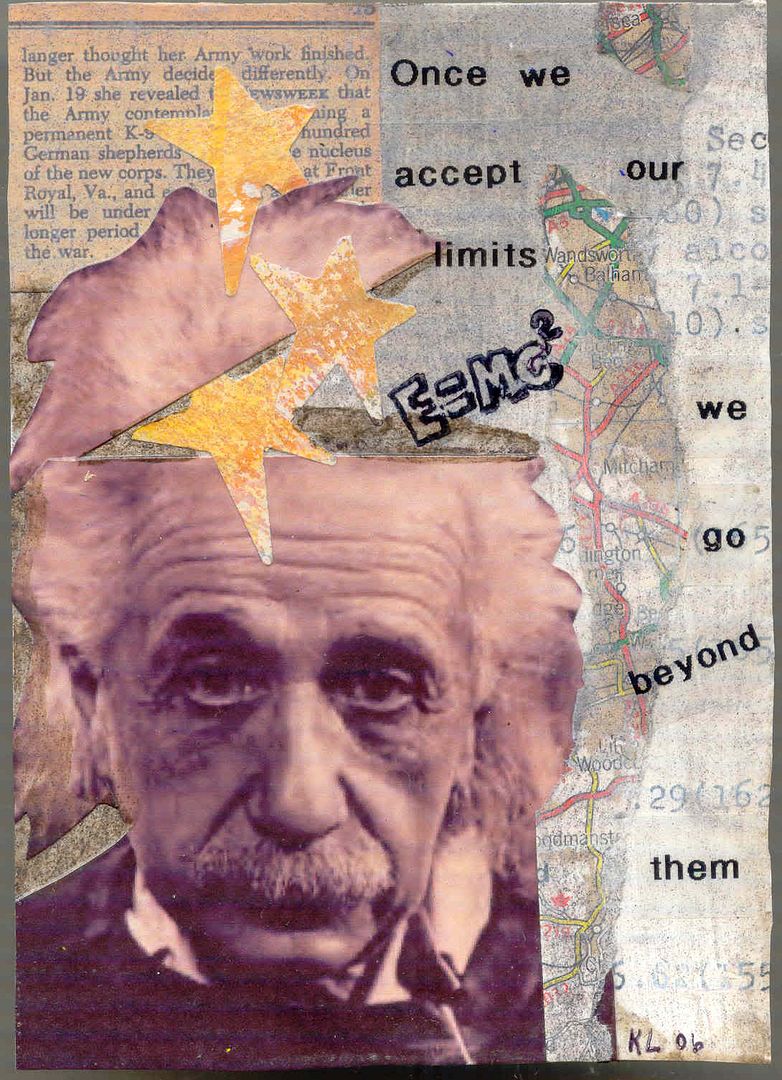 It has definitely been awhile since I posted. So much has happened since my Aunt's 90th. We brought home a second greyhound whose name is Tigger. I have been walking both dogs 4-5 times daily (no fenced in yards allowed in our area) taking anywhere from 20 minutes to 35 minutes per walk! And with a new boy, you pretty much have to play alpha all day, except when they are sleeping. Happy to say things are beginning to settle. Mandy is definitely alpha to Tigger but at least they know who top dog is :))))) I have to upload a picture of them soon.
Last week, we had rehearsals and more rehearsals and then performances and more performances of the ballet, Sleeping Beauty. All three of my children had major parts. My husband and I are still recovering.
The kids were great. I was one proud Mom.

Yesterday I was finally able to do my first collage in almost a month! This one is approximately 4 by 6 and is for a deco with an Einstein theme. It was done on 140 lb water color paper using acrylics, stamps, found papers, and ink. I used an inkjet print of Einstein and the color was originally black and white. After fixing the image using workable fixative and then a matte fixative, the color changed. I like it actually. It aged without me even thinking about it :))) Love when stuff like that happens. I have several more deco pages in the works to complete my deco obligations for this month and then I hope to work on a collage challenge posted on the Midwest Collage Society's yahoo group.