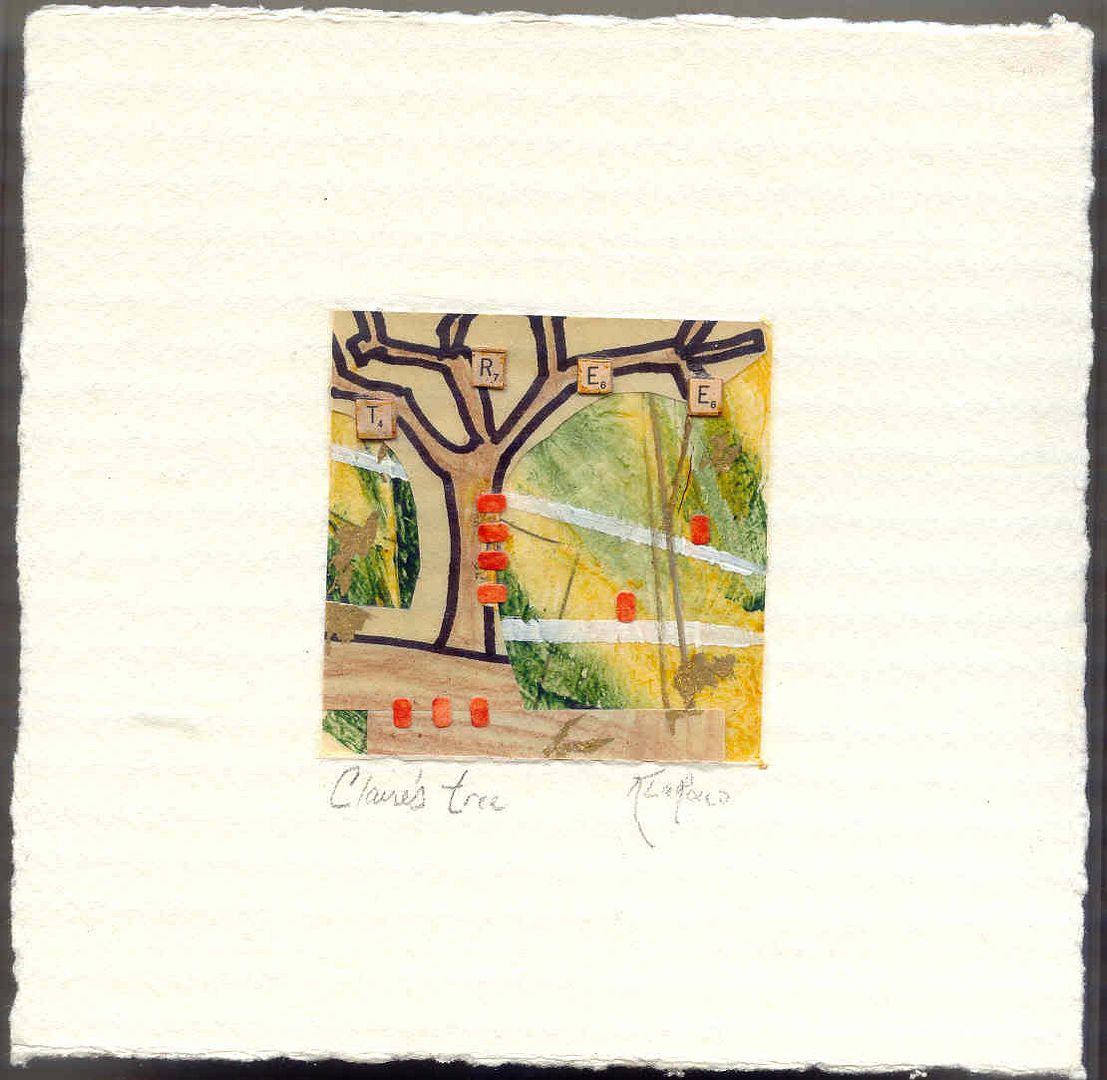 This is one of the small pieces that I did at Jonathan's Collage Workshop at The Art Center in Highland Park, IL. (the beginning of April.) I really loved this free style way of creating a piece of art. It is a wonderful way to work on several pieces at once or to work on a series of pieces. The finished size of the work is 7 by 7 inches and is a mixed media piece on 300 lb watercolor paper entitled "Claire's Tree."
Below I have outlined a portion of the artist's reply to my comparison of microbiology and the visual arts.
After sending Jonathan my response to his first challenge (see the April 14th entry in this blog). I really don't know what I expected. I will say that I received a tremendous amount of gratification in actually doing the challenge and in realizing that I could use the right side of my brain. I sent that Email and then left for the day. While I was gone, Jonathan called me, leaving a message
stating that he wanted to reply to my visual arts and microbiology comparison.
I was so stunned that I would be taken seriously by such a well-known and very busy artist. So here are excerpts from his Email.
I have annotated the text with JT (for Jonathan Talbot) and KL (for myself)

JT: "Before I begin my "detailed" reply to your "dissertation" please know that I was delighted and impressed by the way you responded to the challenge I so presumptuously placed before you. Having read your words, I believe that you realized that this exercise would be a productive one for you and that I, too, might learn something in the process...Now I will move forward in "Email fashion," responding to some of the points you made and hopefully interspersing a few of my own..."
KL: "..As I write this, I feel a sense of wonder... I begin to understand why creating has always been a part of me, has always been lying just underneath the surface waiting to be recognized by my conscious self. "
JT: "Thank you for sharing that with me..."
KL: "[This dissertation] is written so that you might understand where I came from as a scientist... "
JT: " Thank you for describing the education of a classically trained microbiologist in such detail. Clearly your training formed an solid foundation for your subsequent creative work. It is like that in painting as well... Most innovators have a solid grounding in, and a respect for, the history of their discipline."
KL: " Don't be fooled...this work is by no means glamorous and is often done behind the scenes. It can be considered repetitive and downright "dowdy."
JT: "
I giggled when I read the above... So many folks think painting (being an artist) is glamorous and most experienced artists realize that while there are, at times, euphoric breakthroughs much of what we do is repetitive (just look at the works of a single artist in detail and that will become clear... One does not establish a personal style without repetition). "
KL: " The sexy side of this science, if you will, is the molecular genetic or molecular biological approach... "
JT: " The cutting edge of what is going on is always exciting... and the implications of DNA "engineering" are both exciting, scary, and profound (scary because human beings are so unreliable and often out of touch with their relationship with the rest of the biological world)."
Jonathan continued and so will I, tomorrow.
K