Colin and his Clara

Colin and his Spanish Princess
Merry Christmas to you all. It is Christmas Eve and it will be Christmas Day by the time I actually post this. I am sitting here now reflecting on my 2010 Nutcracker experience and still seeing visions of Sugar Plums..... These last two weeks have been all about the Nutcracker, as they have been for a good 10 years. I have told friends that I felt as if I was watching the events unfold hovering from above. I never felt really present but rather floating through each performance. The culmination of three months of rehearsals ended with the Tech week at the Woodstock Opera House (December 7-10). Those four long nights of rehearsals went surprising well. Colin and Claire even got their homework done. And then came the first weekend of performances followed by a week of rest and then the second weekend (Dec 18 and 19) of performances. As I am the proud mother of two very talented dancers, my opinion is very biased. However, to put it mildly, I was blown away...yes blown away by the quality of dancing, the quality of the performance, and the high energy that the Nutcracker held for me this 2010. Colin and Claire just get better and better. I received many compliments from parents and relatives etc.. Many of the people that literally grabbed me, I did not know. How they knew that I was Colin and Claire's Mother is beyond me but I have to say I enjoyed basking in their light, even for just a few moments.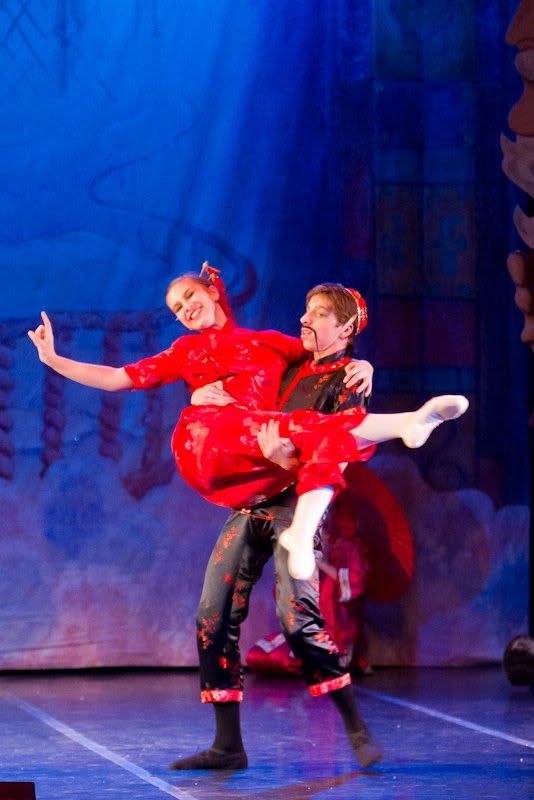 Colin and Claire as Chinese
Colin was the Nutcracker Prince this year. He was also the Spanish Chocolate Cavalier soloist and the Chinese Tea soloist. Claire was in the snow scene as a snowflake and she was the Chinese tea soloist, partnering with her brother. When I saw Colin for the first time,he came on the stage as the nephew of Uncle Drosselmeyer. He was as tall as Uncle Drosselmeyer (about 6 ft). Tears welled in my eyes as I realized that my precious boy was now a young man. I just never realized how tall he had grown in just a few short months (he was 5' 10" in July). So here was this young man playing the part of the nephew, soon to be the Nutcracker prince. At that moment, I knew that these shows would be marvelous. And my Claire, she stepped up to the plate in her first solo appearance. To see them both dance together was one of my happiest and proudest moments as a Mother. Their performance was something I will never forget. After two weekends of nothing but Nutcracker (yes I saw every performance) I realized that even though these past weeks, many weeks of preparation for these performances, were full of stress, it was worth every minute and yes, I would do it again in a heart beat. Thank you Colin and Claire for the best Christmas gift ever.
As a final note, all the pictures on this page are courtesy of Dan Swinson. His website,
A final Kiss. I cried like a baby.


http://www.danswinson.com/photography, is full of beautiful shots of the JSSB (Judith Svalander School of Ballet) Nutcracker performances. These were pinched from his facebook photo album. Thank you Dan for being such a generous artist. These pictures are awesome.
And so it is that Christmas has arrived. I do hope you have created many memories this holiday and that 2011 brings many more.
k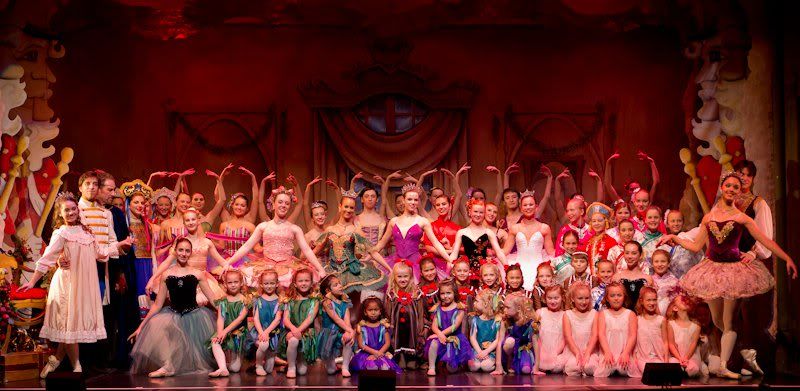 The cast