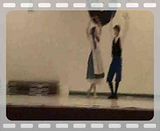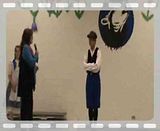 I think that I am fully recovered from long hours of driving, waiting, standing around, more waiting, more driving...you get the idea. The performance of this full length ballet was just totally awesome. And not just because all three of my children were in it. I know because a ballet mom had a friend attend the performance on Saturday the 16th. This friend is a retired performer for the Joffrey ballet. She said it was wonderful, very well done, even the costumes were awesome. If you want to see some of the dancers,sets, and costumes...I am going to send you to a photographers website. Dan Swinson took so many wonderful candid shots of these young performers. Just browse through some of the galleries on Coppelia 2009 and be prepared to see some gorgeous shots:
http://www.danswinson.com/Photography/785269
. And now I will leave you with a little video I took of my son and his partner dancing a scene from the Judith Svalander School of Ballets production of Coppelia (2009). For this kissy doll number he and his partner performed this at a local grade school for an international day celebration. The second clip, in this post, is of my son demonstrating some basic ballet moves to impress the boys in the audience. Enjoy These posts will take you to my photobucket account. For some reason I could not embed them!
k