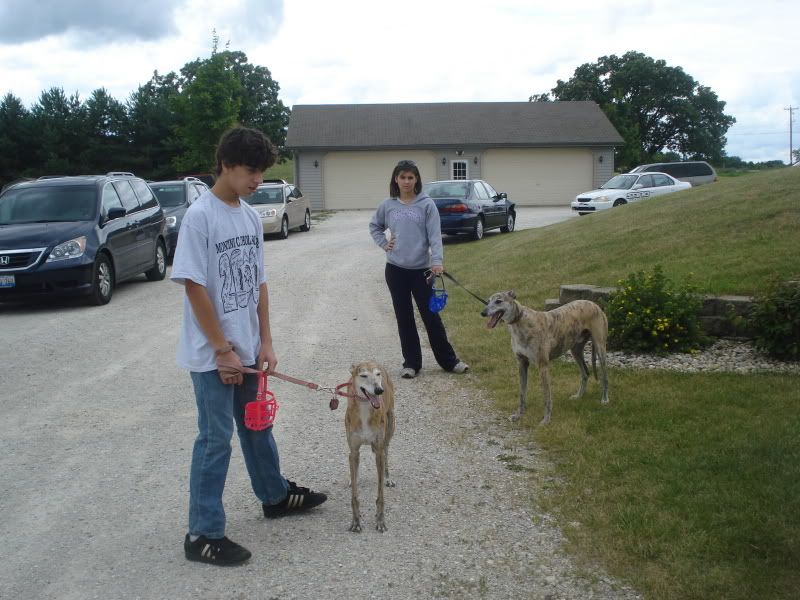 My skin and fur kids piled into our van on the 19th and headed to a Greyhounds Only kennel day.
www.greyhoundsonly.com/
. We were so excited to go because Burl's littermate would be there. Her name is Josie. She and Burl were the only two form their litter to race. I have to say the weather was greyhound perfect. The dogs could run for as long as they liked without getting heat stroke. I finally had the opportunity to meet Josie's human, Jan. She is truly one of those people you meet in your life that can be called the salt of the Earth. Her devotion to these beautiful greyts is unconditional. And then I met silly Josie. What a little Dickens she is/was. Burl was clearly waiting for her and I have to tell you that Josie went right up to him with a waggy tail and nudged him. He reciprocated. There was serious communication going on there and I had no doubt that they were rejoicing in meeting once again. Before I could snap a picture, the magic ended and Josie was off running like the wind. Burl watched her and then went to lay down in the shade. Our family had a wonderful time watching these graceful spirits. To see them run just for fun is really magical. Here are a few pics from the day. Our Burl is the big dark Brindle. Josie is the white greyt ticked with fawn. You can see they are brother and sister in their eyes. Mandy is the little brindle and Tigger is the big fawn brindle. We are so blessed to share our lives with these sweet greys.
k