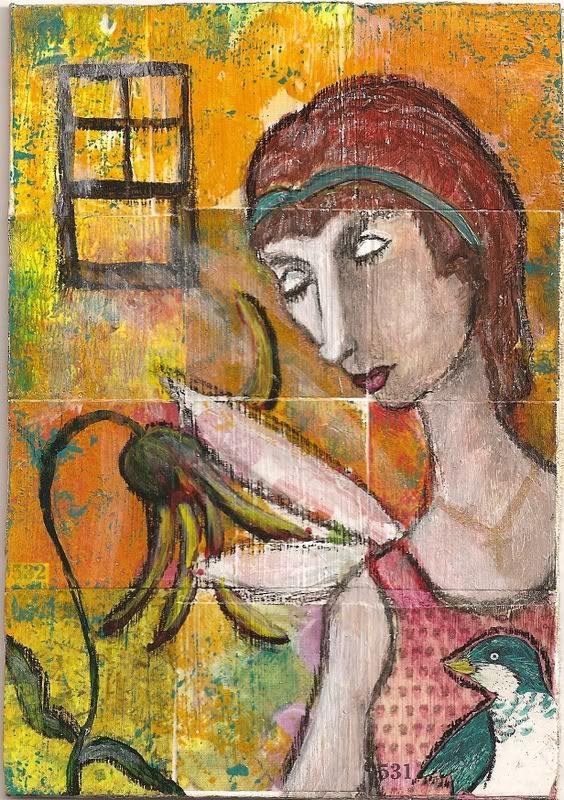 It has been about three month but my 4 virtues are finally finished. I had this idea to write a 4 line poem dealing with 4 virtues. Each line became a mixed media and collage work. The virtues I choose were Peace, Hope, Goodwill, and Faith. The works will look lovely together and of course it would be nice if they went to the same home. My poem is as follows :
With peace in her heart
Hope in her soul,
Goodwill doth impart
Faith sown to grow.
This is the faith work. I have been practicing drawing faces from the works of great artists. This is one of those drawings. And although I don't think it looks like the artist's woman, I am wondering if anyone out there has a guess as to the artist that I was trying to emulate. A hint, the original work was in graphite and the artist lived into the early 1900s. If you guess the artist, I will send you a print of the work "Faith Sown to Grow." That will give me an excuse to figure out how to have prints made :) Anyway the work was done using found papers, acrylics, oil pastels ( I love using those), and graphite. Oh and Rosa, I used all Golden products on this one :) The "glue" that I used was the soft gel matte medium. The work is about 4 by 6 and will be framed in an 8 by 10 frame.
Right now I am working on The Snow Queen from the Nutcracker. I wanted to get back to my children's ballets and the Nutcracker has been a part of our family for about 8 years. After completing three fairies from Sleeping Beauty, I wanted to give time to the Nutcracker. I am about a third of the way done and I hope to have it complete by the 15

th

of this month. Then that will be it before the show. I still have some administrative things to get done before the 29

th

and have to get myself in gear now.
K
Update: I have had two comments from friends who don't know who the

artist

is. Anyone else willing to venture a

guess

?