Tigger and yours truly.

Spring break has been utterly lousy. We spent the entire week searching for a car for my 18 year old, now gainfully employed. Car shopping is right up there with getting a cavity filled, it basically sucks. But that is another story and rant.
I was much more pleased with my shopping experience at the Novica website and that has been much more pleasant to write about.
Novica is an organization committed to helping artists and artisans in developing areas of the world, through Internet sales. This of course is a win win situation for the artist, their family, and their community. Preserving the time honored family traditions of handmade, unique goods, Novica has brought the world to the artists and prospective buyers. While their are plenty of other fair trade sites, Novica seems to go one step further because the organization has eliminated middle men, putting more dollars in the artists pocket. This link provides information on the organization and how it started: http://www.novica.com/news/index.cfm?articleID=17
In an earlier post: http://artful-musings-of-kathyl.blogspot.com/2011/03/fair-trade-my-perspective.html, I described my perspective on Fair Trade. What got me interested in the subject matter again was that little email from Novica. Having discovered my blog post on paper packets, Ricky asked if I would be interested in reviewing Novica for my readers. Before I said yes, I spent some time on the site and just fell in love with all the goods from incredible artists/artisans all around the world. I read all about the organization, asked questions, got answers and then decided that I would bookmark this site for my future gift giving needs (and I do have a few that would appreciate the uniqueness of the items of this site). I also decided to review my purchasing experience with Novica. During this process, Ricky invited me to make a purchase. She gave me a gift certificate to use. In addition, she said I could use part of the certificate for me and maybe offer a portion of it to my readers. Great idea and so I am going to have a give away for that $50.00 gift certificate (details below).
Having been a research scientist in my former life, I had questions. I wanted to know if prospective buyers had to become a "member" of the site: NO. If you do decide to fill in your personal info and become a "member" of sorts, there is no obligation to purchase. I also wanted to know about National Geographics affliation with Novica:
"National Geographic is an investor in Novica and has been primarily attracted to our mission of helping preserve traditional crafts that have been disappearing in many corners of the world. Along with National Geographic, we're also funded by the World Bank, the Grassroots Business Fund, and other investors. NG doesn't actively help us find artists, we do that through our local offices in Bali, India, Thailand, Peru, Brazil, Guatemala, Ghana and Mexico."
While the National Geographic folks don't actually help with finding artists, Novica sends out regional employees to find new artists and to hold contests to find new talent. Ricky stated that: "We go to open air markets, hold contests, and go to hard to get to places to find new artists. Also, within the artisan community, many hear about us and come to our offices directly through word of mouth. " I also wanted to know what percentage of the cost of the product actually went to the artists and : "the artist sets their price and then based on logistics and regional factors there is a markup to get to the final retail price," was the answer. Gift certificate in hand, I went shopping. Being a bit selfish, I decided to buy a gift for myself. This however was no easy task. I love alpaca wool so I settled on a poncho made by Peruvian weaver Isidoro C'cahuantico. What I enjoyed about the shopping experinece was that I could read a little bio about each artist/artisan which was like a short geography lesson of sorts. I looked at a variety of products like home decor, jewelry, paintings, and a corporate gift store. To digress just a little, when I was in corporate America, I would much rather have had a hand made item from this gift selection. Our corporate gifts, no matter what they were, had the company logo on them. I mean, who wants to look at barbeque utensils with a company logo on them. Who really cares. Great idea Novica. I almost purchased a really neat frame made from paper which would have been perfect for one of my small paper packets collages but that darn poncho kept calling my name. I ordered and Novica sent me three emails detailing each step of the shipping progress of the poncho from Peru. It only took 6 business days which just about floored me. Depending on where the item is coming from, shipping times of course will vary. The package arrived gift wrapped (really cool tissue that will wind up in a collage) and with a post card from Machu Picchu thanking me for my purchase in Spanish.
So am I happy. Yep. I wore the poncho yesterday as it is finally warm enough (40's and 50's) here in northern Illinois. I received several compliments from sales people in Coldwater Creek and (of all places) Pac Sun. That never happens to me. Regardless, I love the feel of the piece. It is reversible so I can wear the lighter brown in the spring and the darker in the fall. Love it!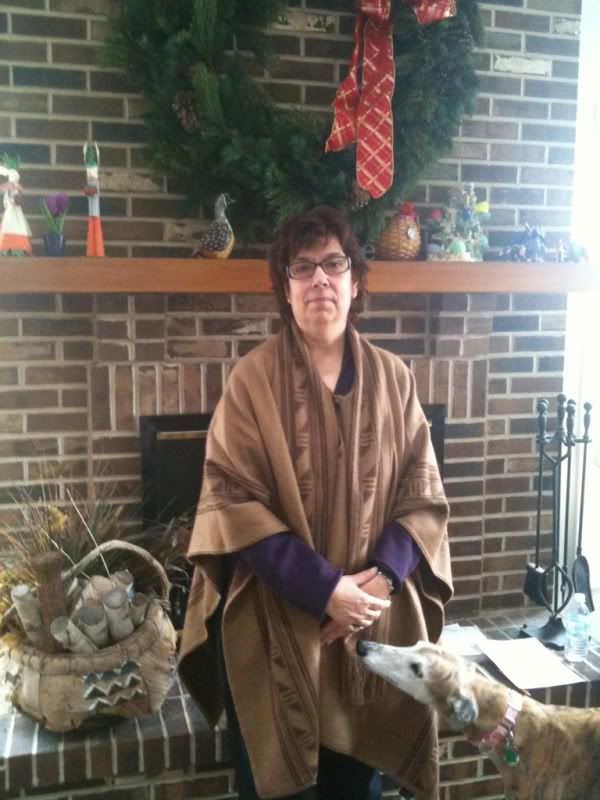 My Mandy and yours truly in my Poncho
Now for your readers, my give away is a $50.00 gift certificate from the Novica site. Thank you Ricky for such a generous gift and I am so happy I can share it with this blog's readers. So if you would like to win this gift certificate, just leave a comment on the blog about fair trade or anything you want. Share the this blog link with a friend and let me know that and I'll enter you twice. Also, if you do not have a blog, please leave your email address so I can contact you if you are the winner. I will use a random number generator to select the winner. An announcement will be made, Monday April 10th. The gift certificate expires in early May so hopefully that will be enough time to shop.
Finally, below are a few links that I looked at on the Novica site. The Novica Live Link describes home business opportunites, as in direct sales. Having done direct sales before, this was not of interest to me, nor was hosting a party because I am so busy. BUT this is a very different sort of home party and I am sure for those who love to host home parties, these products are so different and unique that it would be hard to resist purchasing them. The microfinance link describes opportunites for customers to buy products and make loans directly to the artisan, no middle man involved. I mentioned the corporate gifts section above and there is a section called green gifts for those of us who are environmentally savvy. These links are only just a small sampling of what the Novica story is all about. When you go to the site, have your favorite beverage with you and be prepared to be wowed :)
fair trade corporate gifts
Novica Live
green gifts
microfinance