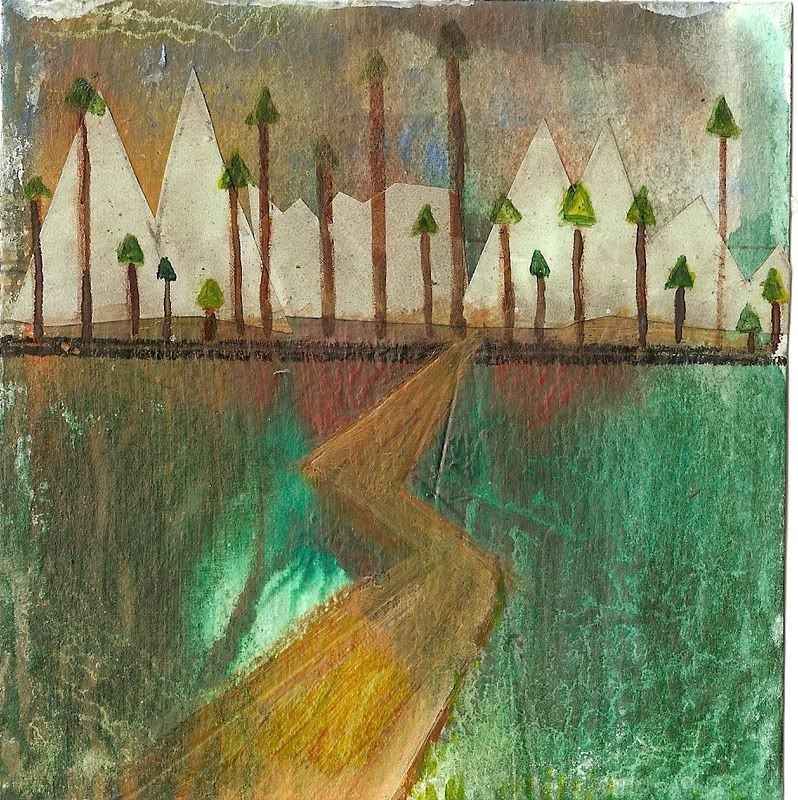 I just purchased another technique book called Collage Techniques. You would think that I had them all by now..Ha not quite! This one is by Nita Leland and Virginia Williams, http://www.amazon.ca/Creative-Collage-Techniques-Nita-Leland/dp/digital-features/1581800983. It has been around for a while, published in I believe 1994. I can't believe I did not have this one in my library! I have been playing with the acrylics book (Acrylic Revolution) purchased just recently and I decided to combine some techniques from this book with what I already have been doing.
This work was an experiment in

monoprinting

. I used both watercolor paints and acrylics to make the background print. And added cut out forms for mountains. All else is hand drawn using oil pastels markers and acrylics. The piece is called TIMBERLINE. OK so I could not think of anything more profound. I used 140 lb watercolor paper as the substrate. Now I can get a bit more ambitious with the next little project. I plan on

monoprinting

a background for a project my daughter has at school. This one has to be done by Friday so I will have another example up of

monoprinting

. I think I will use acrylics this time around.. There will be no need to "fix" the background so it won't smear when I ad polymer medium for collage items.