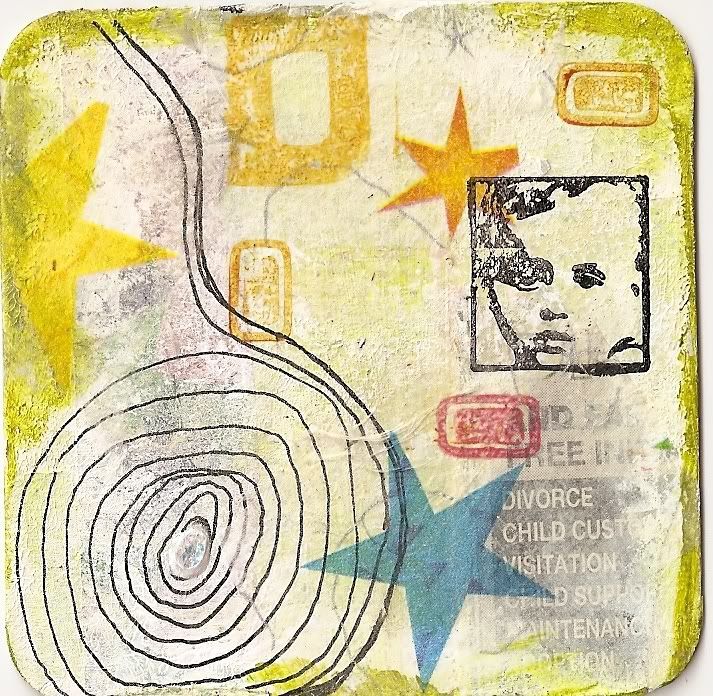 I am finally back in the saddle. This past week two really wonderful events happened, Rosa returned to her blog with a new found art theme: seed. And I will be have a gallery show at the

Raue

Center for the Performing Arts http://www.rauecenter.org/ in May of 2008.

I simply can't believe that my work was accepted. I found myself reflecting on the fact that I am no different than many of you...I have self doubts...Am I good enough, why would anyone like my art, oh sure, it does give me pleasure and that is what counts right? And then I went to the

Raue

on this past Saturday and saw the work of two local artists. The work blew me away. Check out the websites of Nancy Reid http://www.nancyreid.com/ and Johanna

Gullick

http://www.johannagullick.com/. How can I even hang my work in the same gallery? These are award winning artists, professional artists. Then I found myself questioning the

Raue's

criteria for selection. I just keep shaking my head... I know my husband is very proud of me.... I guess I should be thrilled. At least I am back in the studio. So I have some work to do, goals to make, and dreams to achieve. This is a big one for me. The

Raus

is one of the few fine galleries in

McHenry

County. I am still in shock!
Now for the found art theme. I created a little abstract design and collage focused around the seed of life. Hence the title.."Seed of Life." Life is so precious...we are all stars. To make the decision to have children should not be taken lightly, it is a privilege. This work is done on one of my favorite substrates- a drink coaster, this one from a Chili's restaurant. I used tissues, acrylics, inks, and some doodling by yours truly.
I am so happy to resume my

cyber

space friendship with Rosa..although I may not participate as much as I like in the project, I know it is there for me when I need a quick release. Rosa...thank God for you!
The studio awaits me once again. I have a work in progress that I should post soon. It is about half done. It is a

fairy

from my Sleeping Beauty series (now of 3 paintings). She is one of the many faeries from the ballet Sleeping Beauty. Although she is not wearing a tutu nor

pointe

shoes, she is very real to me. I promise to share her soon.