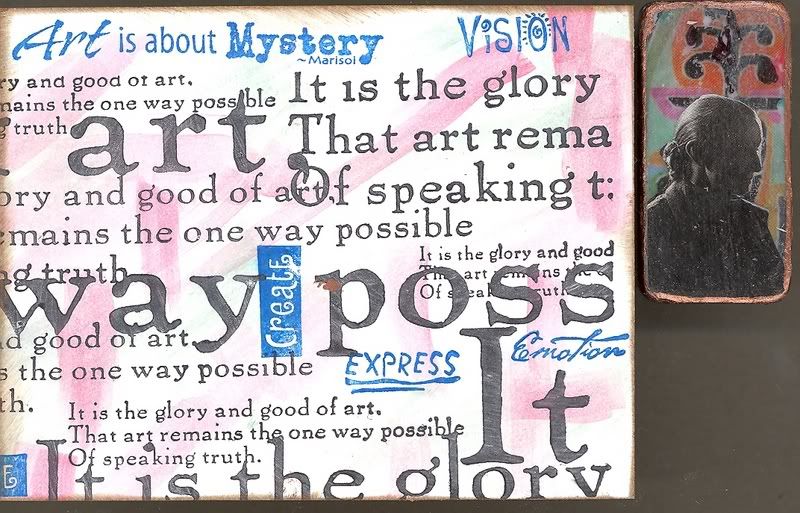 Art, a difficult topic believe it or not. How does one interpret? I was once asked to define the word Art as a sort of challenge. Jonathan Talbot suggested to me that it might be a good exercise. Well after about a full page dissertation, it came down to a little quote from my daughter which went something like "Mom, Art is something you make that you like." Mr. Talbot graciously shorten my definition from one page of typing to "Art is something you make." Deceptively simple I think.
I admire a variety of people "who make something." They include artists both living and dead. My new art friend, Rosa, is one of those people (living of course). Two of my favorite non-living artists are Paul Klee and Georgia O'Keefe. My little pin is a tribute to both. I took Rosa's lead from last week and decided on a three dimensional piece. I love to make domino pins, and so this little piece came about. The background is a transfer of a Klee painting and the silhouette is Georgia O'Keefe. I will attach the pin to this little card with some arty thoughts. I am not sure where to leave it yet :)
On another note. I am thrilled to say that I finally received a response from someone who found my found art piece from last week. I left "15 minutes" at a new coffee shop in Crystal Lake. Conscious Cup is a fair trade shop and the coffee is absolutely wonderful. In my neck of the woods...well lets just say the competitors don't come close. I really love the idea of fair trade and am only to happy to spend my dollars there, knowing that the product is superior and that more dollars wind up in the growers pocket. Anyway, the owner found the work and he left a message here. It was so nice that he acknowledged the work with a compliment. And as a complete surprise and bonus, I may just get a gallery show. I am really excited. I will meet him him on the 30th and we will see where this all goes. Meanwhile I am going to do some pieces with a coffee theme...and then maybe a few more with a theme of my choice.
K