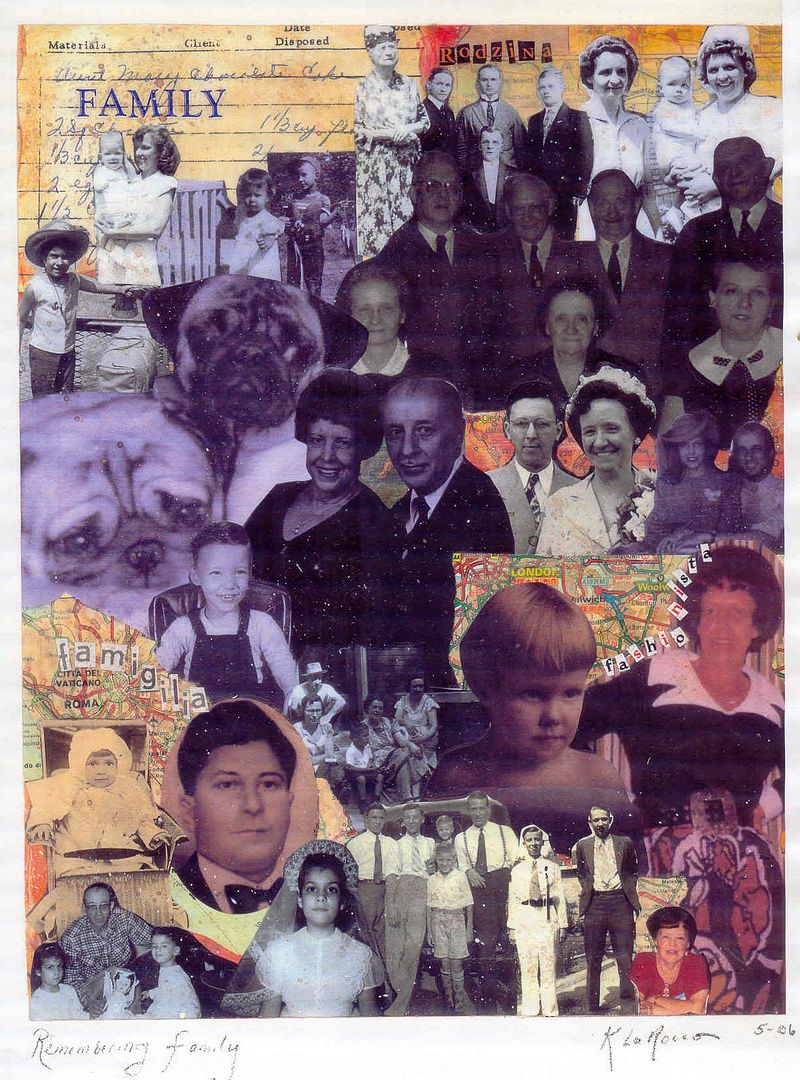 It is finished! Last night at about 10:00 CST, I put the finishing touches on my Aunt Mari's collage. This was a new process for me. I used Jonathan Talbot's methodologies, but I still needed to work some things out for myself as I put the piece together. Since I most recently have journeyed from a rubber stamp world into mixed media and collage, I felt at first that this was like putting a scrapbook page together. Boy was I wrong. The process began with careful scanning and manipulation (with a crappy photo editor) of more photos than I care to think about. Then I hunted for old maps, recipes and other found papers. After about a week of gathering the material, I was off to the copy center to make color copies. More decisions at the copy center were made (do I want more yellow in the copy etc). Finally I had all the material assembled with the exception of just a few alphabet letters.
On Monday of this past week, I coated everything I had with acrylic medium (as per Jonathan's method). I coated way to much but that is OK because I can use the left over material in other works. While that was drying (both sides of the copies had to be coated), I prepared my water color paper. I used 300 lb arches natural (really yummy stuff). The final size of the paper was 16 by 20 which I then masked off to 11 by 14. The background was added to the substrate (an old dress pattern) and some acrylic paint "splashed" on. Then that surface was coated with acrylic medium. This entire process (with drying time) took about 24 hours.
On Tuesday I began to cut out and arrange the photos and papers. This was an ardent and almost nerve racking experience. There was so much material and I had this idea going that just was not translating to the substrate! I knew I had to have most of the work finished by Tuesday because of my time schedule. After arranging, rearranging, and arranging again, I had something that was pleasing to my eye. I did not want to alter the photos too much (as in a David Hockney look) because my Aunt is after all 90, and I don't think she would have recognized or understood that type of approach. I did have one dilemma though. I really like to integrate my background, especially when I am using a variety of different items. How was I going to do that and keep the arrangement I had in front of me. I had some of the photos tucked behind background elements, in the center of background elements etc...and I did not want the photos integrated into the work. So I settled for a happy medium (no pun intended). I made a detailed drawing of where all the pieces were supposed to be on the substrate and then assembled the collage in sections so I could integrate, at least partially, some of the background. It worked fairly well and although the background papers are not fully integrated, I am pleased with the outcome. A few minor additions were made, the piece was sealed and varnished, titled, and there you have it! A srapbook page? I think not, but you tell me...is it art or craft?
So today is Thursday and I am off to frame the work. Saturday is the big surprize party. I hope she likes it!