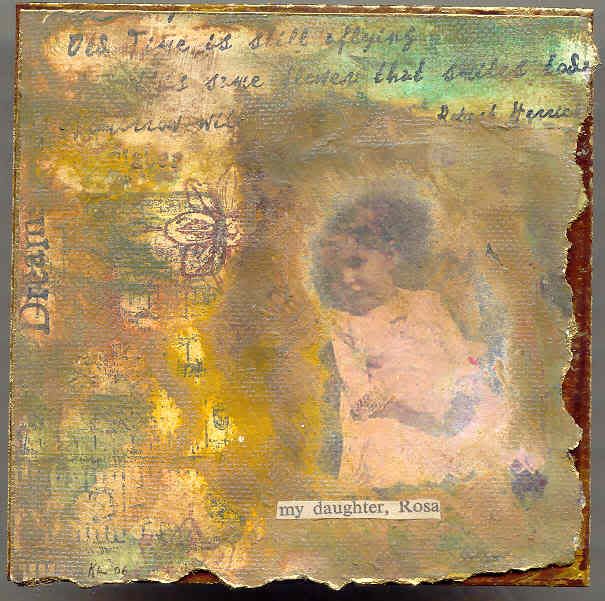 Rosa is another 4 inch by 4 inch piece that I have decided to part with. I did this work several months back for a show with other artists. She depicts an era that has long gone by and is an example of a vintage piece. I used acrylics, inks, and watercolors to achieve the look. Watercolors are the primary medium and this faux fresco technique was taught by Mary Jo McGraw at a workshop I took with her years back. It is one of my favorites because I love to get my hands in the paint. When I am doing smaller works, I will often use this technique to create either a fresco look or a worn vintage look. The substrate is 140 lb Arches cold pressed watercolor paper which is mounted to archival matte medium. It can be seen at this URL if you interested : http://tinyurl.com/hp6do
Mary Jo describes this method in one of her video workshops,
"Stamp Art Inspirations by Mary Jo McGraw." This is a wonderful video, easy to follow, and your piece will actually turn out the way hers did! However nothing beats taking an actual workshop. And I must say if Mary Jo is ever in your neighbor hood or vicinity, GO take her workshop. I have been lucky enough to attend three weekend workshops with her and I have never been disappointed. Her teaching style is laid back and she is so personable. She gets down and "dirty" with the entire group of students. I have always felt at home when she teaches and always come away some some new ideas, finished pieces that I actually like, and stained fingers. I think one of her most valuable gifts is that of honest encouragement. She is a "rebel" artist mixing media at will and that has led her to discover some interesting properties or uses of a variety of products that even the manufactures never dreamed of. Cool huh? The idea is not to be intimidated by anything out there and just give it a try....
I don't know when I will be able to take another workshop from her because the stamp stores in our area have gone belly up. Her venue is usually through a Rubber Stamp store but I think she would be happy to see that I have grown as an artist because of her encouragement, going way beyond what I thought I ever could. Thanks Mary Jo! Rosa came about because of your methods!
k